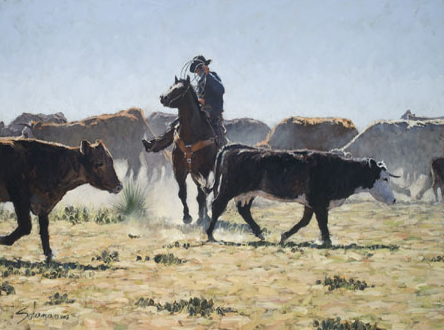 An open house and celebration of art and the plains is 5-7 p.m., Oct. 1 in the Great Plains Art Museum. The event begins with an opening reception, awards announcement and a meet-and-greet with members of the American Plains Artists.

A dinner will at Spaghetti Works will close the evening's festivities. Please call (308) 249-1488 or e-mail jimcartist@yahoo.com to make a dinner reservation.

Allan Duerr will present "Art Doesn't Just Happen," a discussion of the obligations and responsibilities of those participating in the world of creating, selling or buying art. The seminar will take place at 10 a.m., Oct. 2 in the Great Plains Art Museum. This event is also free and open to the public.

The American Plains Artists was organized in 1982 by a small group of artists showing together in Denver City, Texas. It has expanded into a non-profit organization with a growing international membership of signature and associate members. Its goal has remained consistent: "To educate the public through realistic and representational artworks in traditional media about the American Plains, including the landscape, wildlife, peoples and way of life in historical and modern times."
More details at: http://go.unl.edu/div