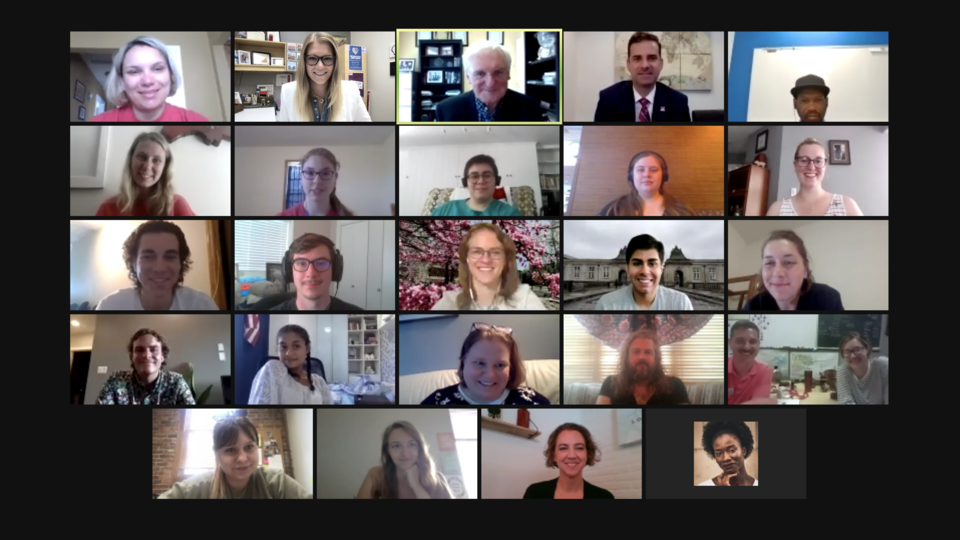 By Courtney Van Hoosen | Global Partnerships and Initiatives

Following the success of its Global Experience courses launched in summer 2021, the Global Experiences Office (formerly Education Abroad) is expanding the Global Experiential Learning Fund for all faculty and staff across campus to develop internationally themed courses or programs.

The reimagined Global Experiential Learning Fund will be awarded to faculty and staff who propose a course or program that includes meaningful virtual or in-person learning opportunities around global engagement. The goal is to increase the number of impactful global experiences students have in a variety of disciplines and incorporate those opportunities into regular department offerings.

"With the help of virtual technology and increased university support, students no longer have to go abroad to have a global learning experience," said Cody Hollist, interim director of Global Experiences and associate professor of child, youth and family studies. "This fund is one of the key initiatives outlined in the Forward Together global strategy that will make it possible for more students, faculty and staff to participate in meaningful global engagement from right here in Lincoln."

Grant recipients can now receive funding to support their courses for three academic years. The first year, with a maximum funding of $8,000, will allow faculty and staff to develop a new course or program, or enhance an existing one. The second and third years, with a maximum funding of $3,000, will support the continued delivery of the globally enhanced content so it can become part of the department's regular teaching portfolio.

"In our N2025 strategic plan, we have prioritized experiential learning and committed to expanding global engagement. This initiative encourages our faculty and staff across campus to bring their best ideas to the table so we can deliver on this commitment for students," said Katherine Ankerson, executive vice chancellor.

A central tenet of the Global Experiential Learning Fund is the transformative power of experiential learning. Grounding the fund in hands-on experiences closely aligns these courses and programs with the N2025 Strategic Plan. Priority will also be given to faculty and staff who leverage their globally engaged search for solutions to Nebraska's identified Grand Challenges and supports them in bringing that expertise to students.

"Our faculty are doing research all around the world related to Grand Challenges and this work directly shapes the student experience in the classroom or the lab," said Bob Wilhelm, vice chancellor for research and economic development. "I'm excited to see the ideas that emerge from this effort to directly link the Grand Challenges and global experiential learning initiatives."

In 2021, funding supported a variety of Global Experience courses across multiple colleges. In the College of Business, students had a chance to learn about entrepreneurship and compare it with the startup community in Rwanda, as well as partner with Brazilian students to develop a business plan for secondhand clothing company We Loop Brazil. Other courses explored international case studies of conflict resolution, community gardening and engagement with the local Yazidi population, and creative uses of technology and environmental design in rural-urban spaces.

In addition to expanding the length of funding support, the revised fund also includes a simplified application process based on feedback from faculty.

"This simplification will help faculty and staff have more time to explore how to make these courses and programs part of their units' sustainable global engagement. We also hope that by prioritizing Grand Challenges we can intentionally support faculty efforts to bring their research into the classroom," Hollist said.

Faculty and staff interested in applying for the Global Experiential Learning Fund should prepare a short statement of interest and a budget that explains how the funds will be used for each of the three years for submission on NuRamp. Funds will be dispersed directly to recipients' unit. Preference will be given to proposals that demonstrate a connection to Nebraska's Grand Challenges and that build or strengthen global partnerships.

Proposals for the 2022-2023 academic year are due April 15. Additional details are available on the Global Experiences website. For questions, interested faculty and staff should contact Cody Hollist at chollist2@unl.edu.