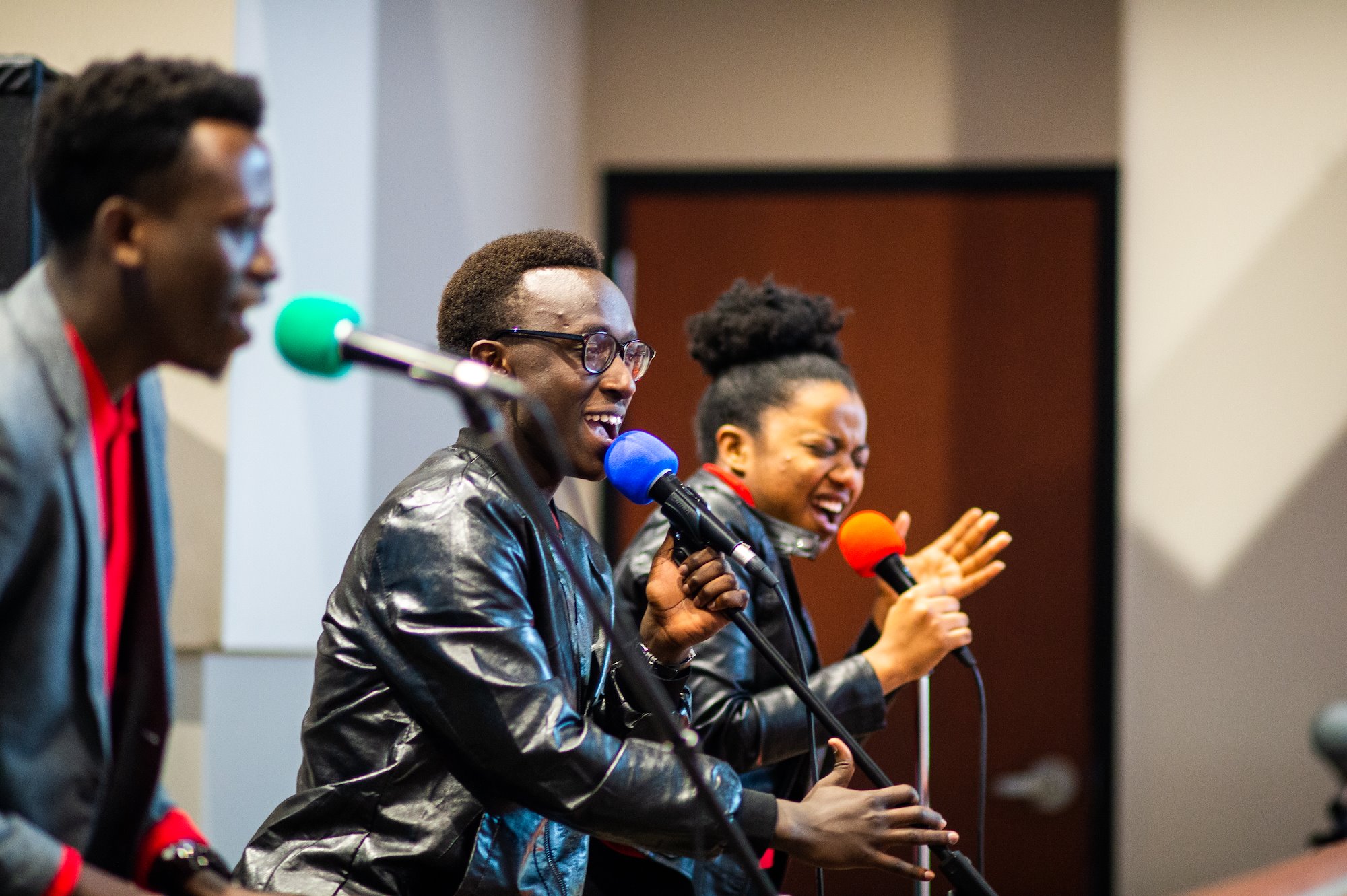 Our students and alumni at the University of Nebraska-Lincoln have incredible and impactful global experiences during their time on campus. This section features those who have been highlighted across campus in the last month for their accomplishments, experiences, and Nebraska career.

Discover some of our students' accomplishments in sharing their culture, leading impactful research and finding new global experiences.

Local Rwandan band draws from global influences, discovers friendship
In February 2020, Benoit Kayigamba, Esther Uwamahoro and Japhet Ingeri came together to compose a musical performance for the annual Rwandan Night campus event celebrating their nation's culture. Little did they know just how drastically one night could alter their trajectories. The band has weathered the trials of the past few years through growing friendship and a mutual passion for music. Now, the band is laying the groundwork for a nationwide tour starting in Des Moines before they graduate next spring.
Read More

Digital project focuses on Nebraska's Holocaust stories
Beth Dotan has worked in the Holocaust education field for many years, including at the Ghetto Fighters House Museum in Israel and as the founding director of the Institute for Holocaust Education in Omaha. In pursuing her doctorate at the University of Nebraska–Lincoln, she saw an opportunity to continue that work and focus specifically on Nebraska's survivors and liberators. Now, Dotan is developing the digital humanities research project "Nebraska Stories of Humanity: Holocaust Survivors and WWII Veterans," which aims to highlight these people, who are part of the fabric of the state's communities and story.
Read More

Semester studying abroad 'perfect time' for Tharp to grow, learn
The University of Nebraska-Lincoln is a long way from Andre' Tharp III's hometown of Portland, Oregon. But last fall, the junior in electrical and computer engineering, took his engineering education even farther by spending the semester studying in Valencia, Spain. In Valencia, Tharp lived with a family and studied at Valencia Polytechnic University (UPV) – taking courses that included Engineering Communication, Probability and Intro Chemistry, but focused mostly on immersing himself in Spanish language courses. Getting the experience of living in another country and learning another language is something Tharp believes will be a benefit once he graduates and begins his engineering career.
Read More

Kenyan-born student touches hearts and minds with her artwork
Painting is an art form that has historically been capable of profound emotional depth despite its limited physical dimensions. For Rose Onyango, her desire to express herself has been a driving factor in sharing her art with the world. Onyango is a fourth-year political science and global studies double major from Kenya. Growing up in the Kibera slums of Nairobi, she started drawing with limited supplies, creating sketches from graphite and charcoal. Now she paints with brushes and buckets, conceiving full-colored illustrations, some of which are on display in the College of Business.
Read More

Swedish shot putter hopes to carry momentum to NCAA, World Championships
Axelina Johansson was supposed to end up in an entirely different Midwest town. But now, over 4,500 miles and an ocean away from home, the Swedish shot putter is prospering, and she plans to stick around for a few years. Since coming to Nebraska, her performance as one of the top shot putters in Sweden has continued to improve, marking a personal best of 18.23 meters and standing as the highest-ranked Husker on the leaderboard of her event at third in the nation. Fittingly, she has some big goals as she chases an NCAA medal this year.
Read More

To submit a student news feature for the next edition of the Global Nebraska newsletter, please contact Courtney Van Hoosen in Global Affairs at cvanhoosen2@unl.edu.