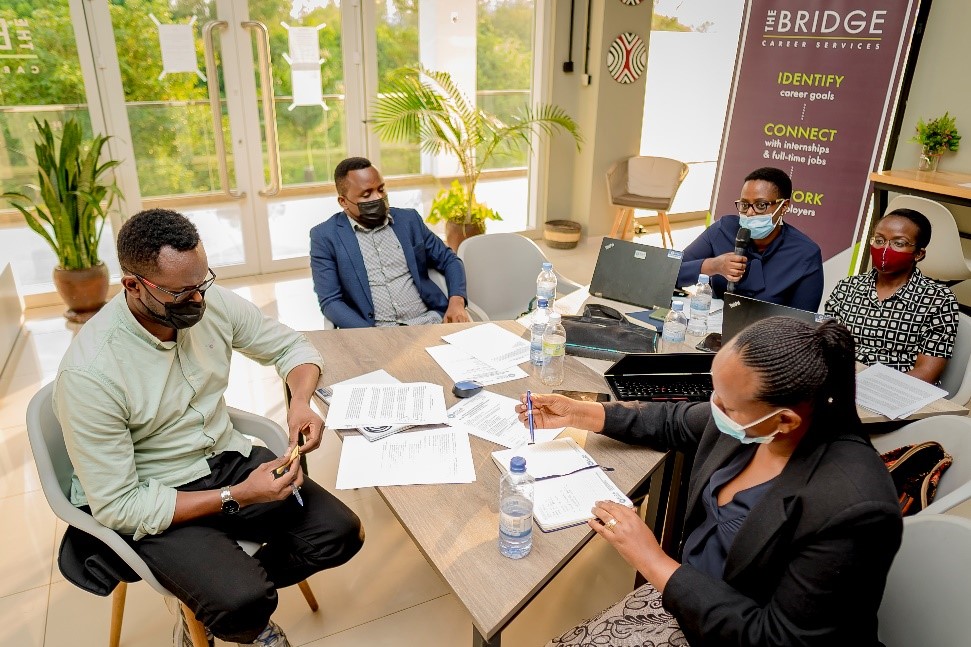 By Courtney Van Hoosen | Global Partnerships and Initiatives

Despite challenges facing universities around the world due to the coronavirus pandemic, faculty and staff at the Rwanda Institute for Conservation Agriculture (RICA) are ready to prepare the next generation of leaders thanks to a new partnership program with the University of Nebraska-Lincoln and its global network.

From May to November 2021, Nebraska and RICA collaborated on the cohort-based Leadership in Higher Education (LHE) Program designed to support emerging leaders and empower them to shape RICA's innovation-based educational approach. Five outstanding RICA instructors and administrators were selected for the pilot program to study leadership fundamentals in higher education administration through knowledge-sharing with peer institutions, individual advising and team-based projects.

In addition to offering program design support, Nebraska partnered with 10 peer institutions and education-related organizations across the United States and the world to connect higher education leaders, share lessons learned with LHE fellows and encourage mutual exchange between colleagues in Africa. Program partners included African Leadership University (Rwanda), EARTH University (Costa Rica), Emory University (Georgia), University of Global Health Equity (Rwanda) and the University of Kentucky.

"It has been a pleasure engaging with peers to highlight best practices in higher education administration," said Tiffany Heng-Moss, dean of Nebraska's College of Agricultural Sciences and Natural Resources. "Our community has learned a great deal from our colleagues in Rwanda, and this exchange has benefited our approach in supporting students at UNL, especially those from our global community."

During the program, LHE fellows participated in monthly workshops focused on facilitating experiential learning to apply frameworks and analyze relevant case studies. Topics included people management, dynamic problem-solving and planning, student development, stewardship and sustainable partnerships. At the conclusion of the program, fellows also identified a gap and proposed a solution to further enable entrepreneurial leadership at RICA.

"As young academics, we spend most of our time working on growing in our area of expertise, and there is little preparation for university leadership," said Marie Fausta Dutuze, an LHE fellow and RICA's One Health Instructor and Curriculum Thread Coordinator. "This training in LHE is an excellent opportunity and is shaped to address our individual challenges in our specific context."

In addition to equipping administrators with the necessary skills to support RICA's progress towards its vision, the LHE program enabled fellows to build global, interdisciplinary professional networks.

"I have learned so much from all of the presentations and higher education leaders we've met from around the world. I'm excited to continue growing my personal network through these connections and sharing the insights I've learned through LHE with peers at RICA," said Sam Nshutiyayesu, LHE fellow and conservation ecology instructor at RICA.

Both RICA and Nebraska hope the program will continue to serve as a platform to build institutional capacity based on unique cultural contexts and an entrepreneurial mindset in higher education administration.

"The LHE program and our partnership with UNL have provided a source of renewed momentum for RICA instructors and staff to stay connected for knowledge sharing and work together on our mission to impact students in the way we intend," said Jean Claude Kayisinga, advisor to the LHE program and RICA's Deputy Vice Chancellor for Institutional Development. "This is a model we see value in leveraging going forward to continue developing staff leadership and strengthening RICA's entrepreneurial vision."

Opened in July 2019, the Rwanda Institute for Conservation Agriculture is an English-language agricultural institution focused on the principles of conservation agriculture and entrepreneurship skills. The Institute was established as a joint effort with the Government of Rwanda and the Howard G. Buffett Foundation. Since its founding, the University of Nebraska-Lincoln has played a key role in curriculum development and technical advising, with several alumni of the CUSP Scholars program joining as faculty and staff at RICA.