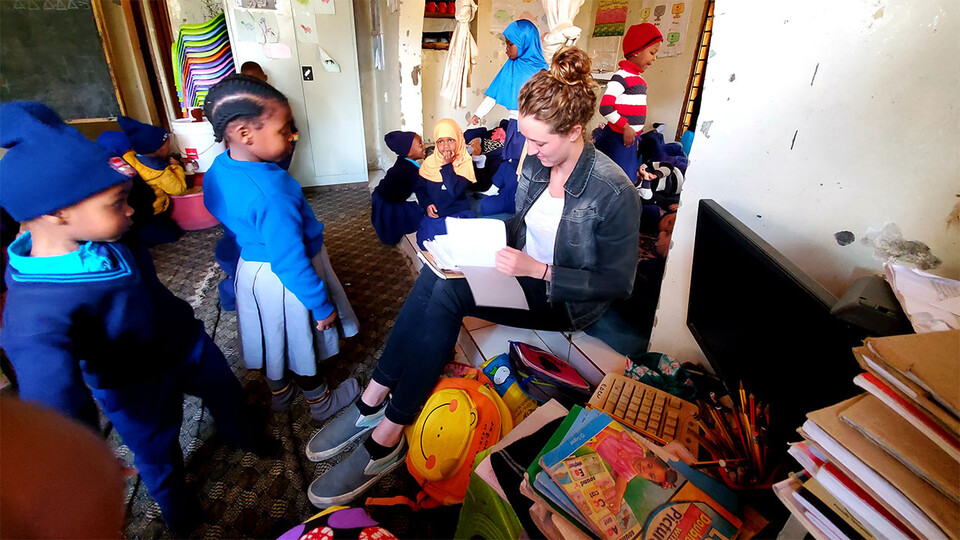 By Courtney Van Hoosen | Global Partnerships and Initiatives

Nine undergraduate students have joined the inaugural cohort of the Peace Corps Prep program this semester at the University of Nebraska–Lincoln. In addition to offering targeted coursework and hands-on experiences, the program helps students build the competencies needed to serve as Peace Corps volunteers and in other international development fields.

Upon successful completion of the program, students receive a special certificate from the Peace Corps. Though completion of PC Prep does not guarantee acceptance as a Peace Corps volunteer, it gives applicants a competitive edge in addition to professional leadership and intercultural skills. For junior Katie Schmitz, the program is a critical step on her way to achieving her goal of serving in the Peace Corps after graduation.

Preparing for the Peace Corps
Schmitz initially became interested in Peace Corps service after learning about humanitarian crises through her global studies major. In PC Prep, students develop specific skills to prepare them for one of the six sectors in Peace Corps service: education, health, environment, agriculture, youth in development and community economic development. After volunteering last summer to teach English and other topics for six weeks at an elementary school in Arusha, Tanzania, education became the clear sector for Schmitz to focus on.

"I loved the experience of teaching people within a culture that was entirely new to me, because as they were learning from me, I was also learning so much from them," Schmitz said. "Being able to learn from and experience different cultures, while also offering my knowledge and time to others, is why I am interested in teaching English abroad."

This summer, Schmitz will continue building her intercultural skills by studying abroad in Zambia, funded in part by a scholarship through the program. PC Prep students receive a guaranteed scholarship of up to $5,000 to study or intern abroad in a country where Peace Corps volunteers have served, or in a program that offers intensive Spanish, French or other languages spoken in Peace Corps host countries.

After graduation, Schmitz plans to apply for an education-sector position in the Peace Corps and ultimately work for an international humanitarian aid organization or nonprofit.

"This program will undoubtedly provide me with invaluable experiences that will prepare me for my time abroad with the Peace Corps and in my professional career," Schmitz said.

Exploring other global careers
While some, like Schmitz, are preparing for a career in the Peace Corps, students in PC Prep are also able to explore careers in sectors beyond international development.

"The skills developed through this program are highly valuable whether or not students ultimately serve in Peace Corps," said Rebecca Baskerville, PC Prep program coordinator and associate director of experiential and global learning in the University Honors Program. "Especially with recent world events, there are many employers in Nebraska, across the U.S. and around the world seeking graduates who can demonstrate these competencies."

For sophomore Tyler Freimuth, PC Prep is an opportunity to hone his cross-cultural skills as he explores what kind of career he wants after graduation. From a young age, the Omaha native has cultivated a passion for traveling and learning the history of different places that has led him to consider careers in the Foreign Service and Peace Corps. Currently, the global studies and history major is studying abroad at Humboldt Institut in Berlin, Germany, and is eager to engage with his PC Prep cohort when he returns in the fall.

"I am not 100% sure yet what I am going to do after graduation," said Freimuth. "But the skills and preparation I gain from PC Prep are very helpful, whether or not I do decide to go into the Peace Corps right after graduation, as these skills will help me with what I generally want to do after graduation."

Building student connections
In addition to helping students develop tangible skills for their future careers, the Peace Corps Prep program provides an opportunity for students to build peer and professional connections.

"We're excited that the first cohort of PC Prep represents a variety of identities and interests," said Emira Ibrahimpasic, the program's academic coordinator, assistant professor of practice and assistant director of the Global Studies program in the College of Arts and Sciences. "They come from nearly every college at UNL, with a wide variety of majors, and their interest spans all six of the job sectors offered by Peace Corps."

Lucy Peterkin said applying to PC Prep was a natural progression of her courses and work experience as she prepares for her senior year. The business and law major is currently studying abroad in Lisbon, Portugal, taking courses in conflict, peacekeeping and Portuguese history and language. After graduation, she hopes to leverage the experience in applying for a Fulbright award to teach English in Brazil and potentially serving in the Peace Corps, while ultimately working towards a career in international human rights law. But first, Peterkin is focusing on building her skills as a global citizen to better collaborate with international peers on solving big social problems.

"In the short time since its launch, the Peace Corps Prep program has already provided us with opportunities to engage with the broader international community through lectures and events," Peterkin said. "These invaluable resources have made the prospect of Peace Corps service so much more exciting to me, and access to the opportunity so much more real."

As part of PC Prep, students have access to a dedicated Canvas page to connect with their cohort and learn about exclusive opportunities to engage with returned Peace Corps volunteers and other campus events focused on international development, diversity and inclusion, and more. Nebraska's program also includes coaching on the Intercultural Development Inventory assessment; tailored education abroad and advising in career development; and mentorship opportunities.

"This cohort is the exact community I have been searching for throughout my college experience," Peterkin said. "I feel really supported by PC Prep as I prepare for my senior year of college and explore what might come next."

Learn more about the Peace Corps Prep program on the Global Experiences website. For questions about the program, contact Rebecca Baskerville at rlbaskerville@unl.edu.