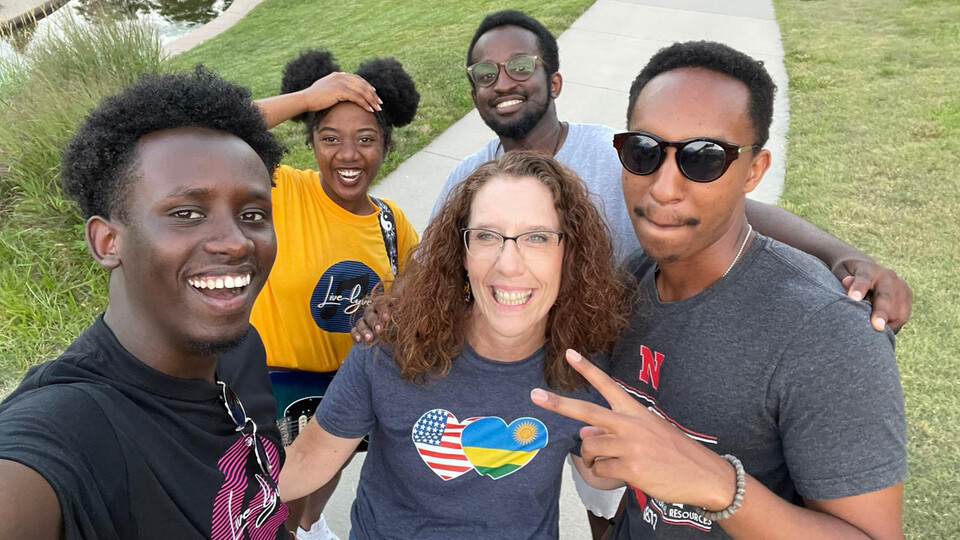 Nebraska would not be the same without the incredible faculty and staff at the university. This section highlights faculty that have been featured across campus in the last month for their research achievements, academic work, and journey to Nebraska.

Meet some of Nebraska's incredible faculty and staff, including those who are forging intercultural connections on campus, earning global recognition and working on far-reaching research.

Sandin shines as 'living embodiment of every person and interaction matters'
Mikki Sandin's passion to help others is a beacon helping guide student success — particularly for international Huskers — in the College of Business and across the institution. Sandin, who has served for three years in the college (six total on campus), is the international business and inclusion coordinator for Nebraska Business. Her work includes working with the college's international team to offer meaningful interactions abroad, forging intercultural connections on campus and supporting experiential learning and internships. Sandin goes above and beyond in her role by taking the lead on workshops; collegewide diversity, equity and inclusion initiatives; award competitions; and student events.
Read More

Husker researchers develop tool to make irrigation more efficient
Agriculture's future in Nebraska and globally will depend in great part on efficient water use. Led by Trenton Franz, associate professor of hydrogeophysics and associate director of research in the School of Natural Resources, a research paper by University of Nebraska–Lincoln scientists points to an innovative irrigation approach that offers promise to decrease water use while increasing producer profitability.
Read More

Nebraska team helps power Mayan temple preservation
Husker researchers Heather Richards-Rissetto, Richard L. Wood and Christine E. Wittich spent much of last June deep underground, up to 30 meters below, taking lidar scans of Temple 16 at Copán, a UNESCO World Heritage site that was once a Mayan metropolis located in western Honduras. At the University of Nebraska–Lincoln, they have turned the data gathered into 3D geometry of the temple, including its excavation tunnels, the construction that's taken place over the span of centuries — and the damage.
Read More

Schaffert's 'Perfume Thief' earns international recognition
Since its publication Aug. 3, Timothy Schaffert's "The Perfume Thief," has ridden a wave of continual success. Most recently, the novel was selected by Penguin Random House International for the One World One Book program. The publisher only selects up to two titles annually for this global promotion, vastly expanding the number of bookstores the book will reach overseas. The sixth novel for the the director of Nebraska's Creative Writing Program and Rosowski Professor of English, follows Clementine, a queer American ex-pat and thief, who is drawn out of retirement and into another scam when the Nazis invade Paris.
Read More

Visiting scientists from Turkey conducting research at Nebraska
Two visiting scholars, Sema Kaplan and Mahmut Kaplan, have arrived in Lincoln from Turkey to collaborate with researchers in CASNR to explore new methods for soil management and plant breeding. "The University of Nebraska–Lincoln is one of the most respected institutions in the United States," Sema Kaplan said. "Having the opportunity to work here with people in their professional areas makes me excited to learn new techniques and blend them with my focus area."
Read More

To submit a faculty or staff news feature for the next edition of the Global Nebraska newsletter, please contact Courtney Van Hoosen in Global Affairs at cvanhoosen2@unl.edu.