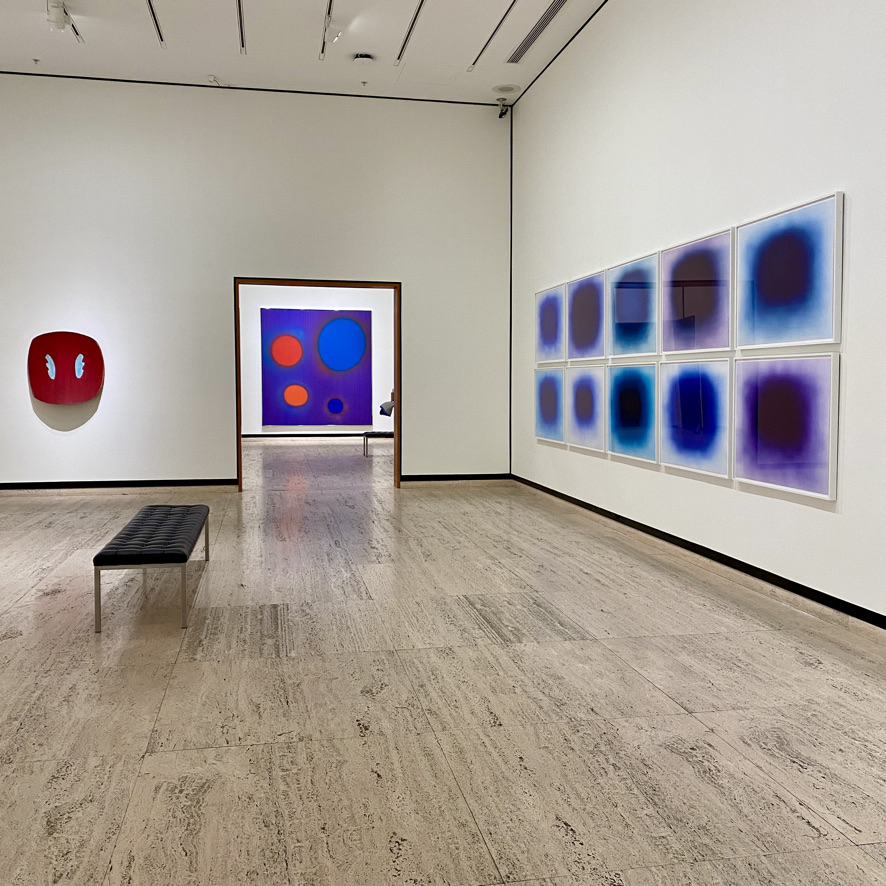 Sheldon Museum of Art at the University of Nebraska–Lincoln has opened four new exhibitions for the fall semester. Each draws from the museum's collection of nearly 13,000 objects to offer a thematic presentation that fosters inquiry, discovery, and opportunities for students, faculty and staff, alumni, and visitors to engage with art and one another.

Through December 31, Sheldon presents the exhibitions: "Point of Departure: Abstraction 1958–Present," "The Nature of Waste: Material Pathways, Discarded Worlds," "Framing a Legacy: Gifts from Ann and James Rawley," and "Sheldon Treasures."

"Point of Departure: Abstraction 1958–Present" surveys the evolution of abstraction from the late 1950s—after the first wave of artists associated with abstract expressionism—to the present.

The exhibition's title is drawn from a 1958 jazz recording by Andrew Hill that both exemplifies and defies its time. Hill's music had its roots in a post-Monk, hard-bop style, pushing it to the edge of free jazz and, as the title indicates, into new territory. Abstraction in visual art, like Hill's music, continues its evolution.

Abstraction is one of the strengths of Sheldon's collection. Seminal holdings of early modernism in America inspired acquisitions of key postwar works associated with abstract expressionism. With persistence, this focus has continued to the present. Recent additions to the collection provide inclusive presentation of diverse voices and perspectives that lead to more profound and accurate discussions of abstraction. To that end, Point of Departure includes six recent acquisitions and four loans from local collections.

"The Nature of Waste: Material Pathways, Discarded Worlds" presents a holistic investigation into waste streams, by surveying artworks that use as inspiration our castoffs, leftovers, junk, detritus, scarcity, and ruins. With subjects ranging from nineteenth-century ragpickers to the ecocritical practices of the present day, the works highlight waste's complex relationship with colonialism and industrial production.

This exhibition was organized by Katie Anania, assistant professor of art history in the School of Art, Art History & Design. Exhibition support is provided by Hixson-Lied Endowment, Nebraska Arts Council, Nebraska Cultural Endowment, Sheldon Art Association, and the University of Nebraska–Lincoln's Daugherty Water for Food Institute.

"Framing a Legacy: Gifts from Ann and James Rawley" is a celebration of artwork given to the museum by longtime supporters Ann and James Rawley. It not only highlights their affinity for collecting paintings, sculptures, and works on paper, but also Ann's meticulous framing practice.

James Rawley (1916–2005) was the Carl Adolph Happold Professor Emeritus of History here at the university. He taught courses and published books in his fields of specialization: the American Civil War, Abraham Lincoln, and the Atlantic slave trade. His significant contributions to the study of American history are recognized by the James A. Rawley Prize (OAH), which is given in his memory by the Organization of American Historians for the best book on race relations, and the James A. Rawley Prize (AHA), given by the American Historical Association for the best book in Atlantic history.

"Sheldon Treasures," an ongoing exhibition that changes each semester, highlights of some of the museum's most important and best-known objects. The works featured in the fall 2021 iteration of "Sheldon Treasures" demonstrate the breadth of approaches artists have taken in depicting the human figure. Throughout the history of art, representation of the human form has provided expressive possibilities for stylistic innovation, social commentary, and storytelling.

For more information on exhibitions and programs at the museum, visit sheldonartmuseum.org.

More details at: https://sheldonartmuseum.org/