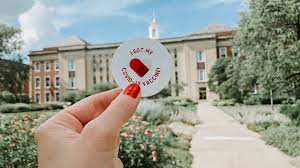 To help monitor and prevent spread of COVID-19 on campus, students, faculty and staff are required to participate in weekly saliva-based testing for COVID-19. Once you're fully vaccinated, you can skip testing by becoming part of the Voluntary Vaccine Registry.

If you've completed your final dose of a vaccine approved by the World Health Organization, at upload your vaccination card. Once you're two weeks past the final dose, you'll be eligible to become exempt from weekly testing and your Safer Community app will show "Building Access Granted."

Vaccination helps protect you and your fellow Huskers. Upcoming vaccination opportunities are available from the Lincoln-Lancaster County Health Department and retail pharmacies. Additionally, the University Health Center pharmacy offers single-dose Johnson & Johnson COVID-19 vaccines on a walk-in basis — no appointment is needed.