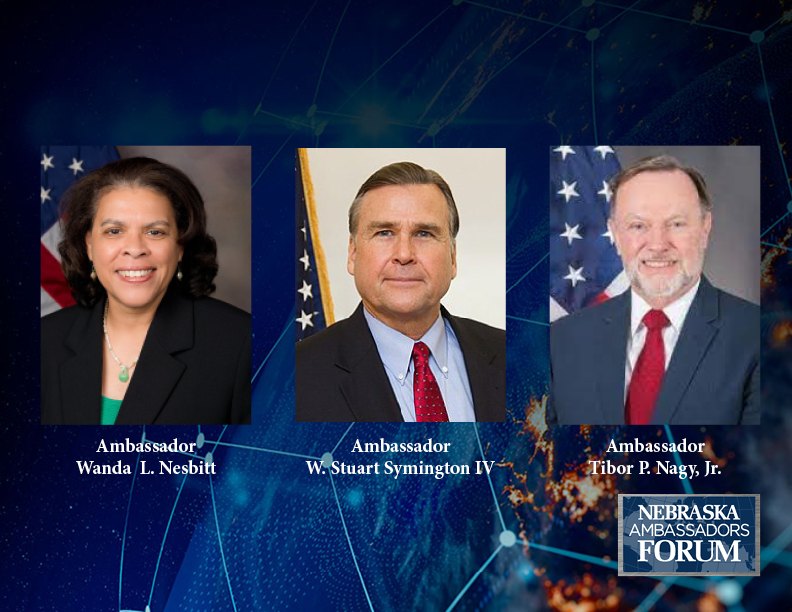 By Mia Azizah | Office of Global Strategies

The university and Lincoln communities are invited to attend the 2021 Nebraska Ambassadors Forum from 10 to 11:30 a.m. Oct. 26 at the Nebraska Union Platte River Room.

The University of Nebraska- Lincoln is partnering with the University of Nebraska at Omaha, Burlington Capital and the American Academy of Diplomacy in Washington D.C. to host the event this year.

Registration for the Oct. 26 event is required. In-person participation will be capped at the first 70 registrants. In accordance with current campus policy, masks must be worn for the duration of the event.

This year's theme is "Africa in the Contemporary World." The forum will examine key policy issues facing African governments and the international community between now and 2050. The event is also an opportunity for Americans to learn more about the continent and its rich, nuanced history.

"The University of Nebraska-Lincoln cares deeply about global engagement, and we are proud of the partnerships we have developed in sub-Saharan Africa over the last several years," said Josh Davis, associate vice chancellor for global affairs. "This event is a great opportunity for our community to learn more about this dynamic part of the world from three very distinguished former ambassadors."

Three former U.S. ambassadors will each discuss one of the major themes, followed by a question-and-answer session. The distinguished guests include:

Tibor P. Nagy, Jr., former U.S. Ambassador to Ethiopia and Guinea, speaking on the topics of environmental challenges and climate change;

Wanda L. Nesbitt, former U.S. Ambassador to Madagascar, Cote d'Ivoire and Namibia, speaking on the topics of workforce economics and the Chinese paradox of humanitarian aid in the region; and

W. Stuart Symington IV, former U.S. Ambassador to Nigeria, speaking on the topics of regional conflicts, stability and extremist violence.
Sher Jan Ahmadzai, director of the University of Nebraska at Omaha Center for Afghanistan Studies, will serve as the panel moderator.

More information about the ambassadors and topics can be found on the Nebraska Ambassadors Forum website. For inquiries, please contact the Office of Global Strategies at globalstrategies@unl.edu.

More details at: https://neambassadorsforum.com/