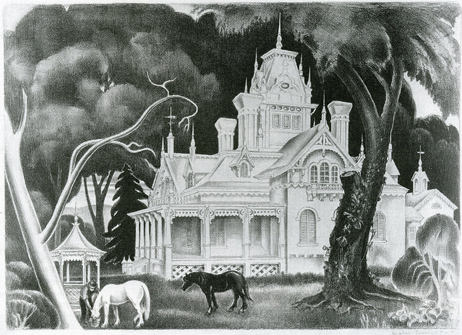 Why was "The Addams Family" set in a decayed Victorian house? Why does the ominous mansion in "Psycho" have a mansard roof? Sarah Burns, one of today's foremost art historians, will answer those questions a lecture, "Better for Haunts: Victorian Houses and the Modern Imagination," at Sheldon Museum of Art at 5:30 p.m. Oct. 23.

Burns, Ruth N. Halls Professor Emerita in the Department of the History of Art at Indiana University, researches the sinister side of American architecture, tracing the affinity for ghouls and ghosts in Victorian houses through the painting, photography and mass media of the early 20th century.

Her many publications include the now-classic "Inventing the Modern Artist: Art and Culture in Gilded Age America" and, more recently, "Painting the Dark Side: Art and the Gothic Imagination in 19th-Century America."

Burns' lecture is a joint program between the Sheldon Museum of Art and the Department of Art and Art History in the Hixson-Lied College of Fine and Performing Arts, with additional support from UNL's 19th-Century Studies Program.

The exhibition is open and free to the public during regular hours: Tuesday, 10 a.m. to 8 p.m.; Wednesday through Saturday, 10 a.m. to 5 p.m.; Sunday, noon to 5 p.m.; closed on Monday. For more information, visit http://www.sheldonartmuseum.org.
More details at: http://go.unl.edu/dtg