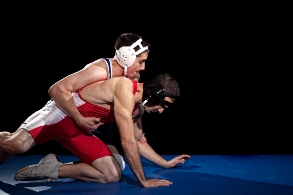 Students wanting to compete in the Intramural Sports Wrestling Meet should check in and weigh in from 11 a.m. to 2 p.m. Feb. 21 in the rec center. Check in at the Intramural Sports office; weigh-ins are in the locker rooms.

This is a free event and open to all students, including women. UNL Campus Recreation and its activities are open to students of all abilities - please inquire about the availability accommodations for special needs.

Women's weight classifications are 103, 112, 119, 125, 133, 141, 149, 157, 165, 174, and Unlimited.

Men's weight classifications are 125, 133, 141, 149, 157, 165, 174, 184, 197, 225, and Unlimited.

All matches from 4:30 to 11:30 p.m. Feb. 24 in the rec center's Combative Arts Room. A two pound weight allowance will be accepted on Feb. 24.

The Wrestling Meet is an IM Athlete of the Year event.

For more details, click the link below or call 402-472-8383.

More details at: http://go.unl.edu/yf5