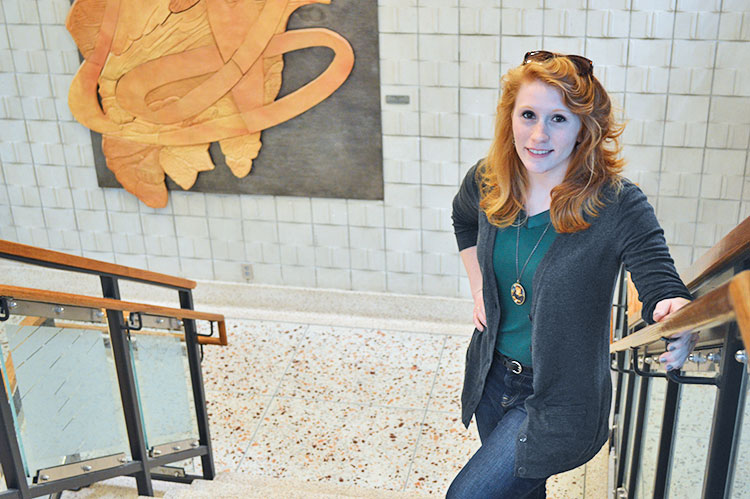 Jessica Powell always had a clear vision of what her professional future would look like.

"I've known since middle school that I was interested in a science career," said Powell, a junior water science major from Omaha. "I did several science fair projects about plant health, and got interested in environmental issues in high school."

During her UNL campus visit, Powell said she identified what would become her academic major.

"My recruitment tour at CASNR was really great," she said. "I explained my interests and water science turned out to be the best fit for me."

Powell's compatibility with the water science field has grown and evolved since she began college three years ago. Although she had planned to pursue a senior thesis that explored how certain pollutants affect fish behavior, she opted to take another approach.

"Reading articles about this issue made me realize that I was more interested in preventing these pollutants from entering the environment or removing them," Powell said.

That interest led her to Steve Comfort's lab, where she makes permanganate and wax candles for soil remediation. Comfort, SNR professor and soil environmental chemist, also serves as Powell's thesis adviser.

"(Jessica) has been very enthusiastic about learning more about our research," Comfort said. "She has jumped right in. She even went with us to the field over spring break to conduct groundwater sampling in a snow storm – with no complaints."

Powell also measures fish in the fish behavior lab of Alexandra Basolo, professor of biological sciences.

"My thesis has really challenged me to think about what is important to me and where I want to go with my life," Powell said.

That life path now includes an upcoming summer internship with the Nebraska Department of Environmental Quality.

"The internship will involve lab and field work monitoring the Niobrara River," Powell said. "I think taking Stream and River Ecology last semester with Steve Thomas (SNR associate professor) gave me a huge advantage when I applied for the internship. I felt confident at the interview because I could apply what I learned in class."

Mark Pegg, professor and fisheries ecologist, said that Powell's motivation makes her a standout student.

"Jessica is one of the best students in the School of Natural Resources," Pegg said. "(She) is striving to build a solid repertoire of skills that range from field to laboratory that will put her in a solid position for graduate school or a professional position in the very near future."

That's good, considering Powell – who's slated to graduate in May 2015 – said that she's torn between the options of heading directly into grad school or working for an environmental group.

"Right now, I'm leaning toward going to grad school after I graduate," she said. "My long-term goal is to have a job where I make or keep the environment healthy."

For now, Powell is keeping busy with her studies and extracurricular activities, which include everything from being a New Student Enrollment (NSE) leader to dancing with the UNL Ballroom Dance Company.

"I love ballroom because it's a great way to stay active and meet people outside my major," she said. "My favorite dances are tango and Viennese waltz."

Whether she's on the dance floor or in the lab, there's no doubt Powell is making the most of her time at UNL and in SNR.

"I've gained so much valuable experience by being an SNR student," Powell said. "SNR prepares you for the real world."

– Mekita Rivas, Natural Resources

Do you know a stellar SNR student who should be spotlighted in an issue of Inside SNR? Send his or her contact information to mrivas@unl.edu.