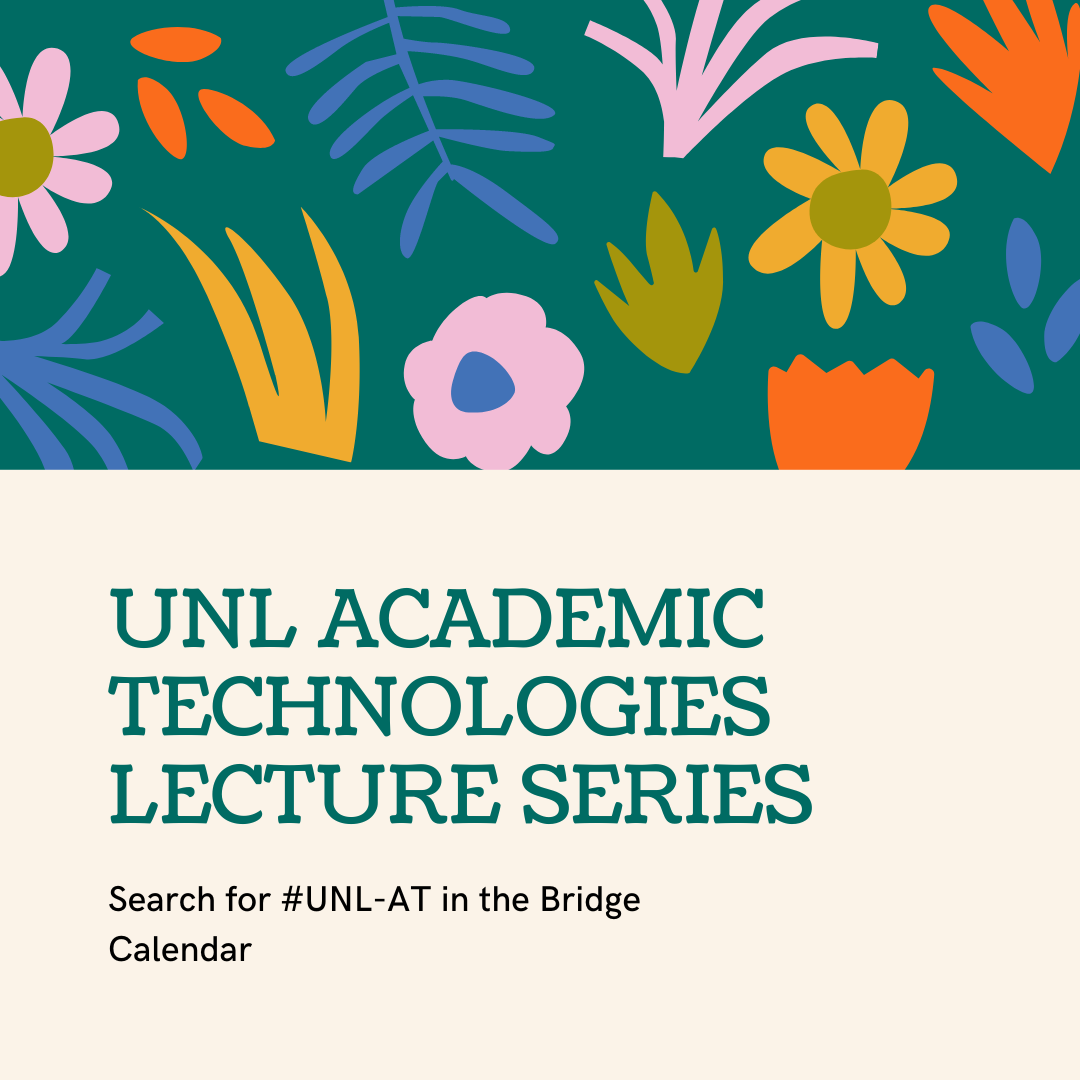 YuJa Canvas Commons for Students
Academic Technologies has created a new Canvas Commons module designed to serve as a YuJa training and support aid for students. Simply log in to Canvas and click the "Commons" icon near the bottom of the page in the gray navigation bar. Then, you should see a module titled "YuJa Video Content Platform – Student Tutorial." Click this and you will have the option to view the module's content and to click Import/Download to easily import this module into any of your Canvas courses. Adding this module to your course is a great way to provide your students with the information that they need to get started using YuJa.

Training and Learning Opportunities
This spring, Academic Technologies is providing several training and learning opportunities to the UNL campus for staff and faculty. First, we are continuing last semester's popular Academic Technologies Lecture Series. Each week, members of our team will present about a different popular academic technology service on our campus. From beginner, intermediate, and advanced YuJa sessions to the basics of Sharepoint/OneDrive and successfully integrating those tools into your Canvas course, these trainings will have a little something for everyone.

The upcoming lecture series opportunities will be:


The OneDrive/Sharepoint Ecosystem and Canvas March 23, 2-3p.m. – Leah Widdowson will provide an explanation of the differences between OneDrive and Sharepoint, how to access and use each of those tools, and how to successfully connect OneDrive to Canvas. This presentation is designed for novice users, so you do not need to have any experience with OneDrive/Sharepoint to benefit from this session. The first half of this presentation will be relevant to staff and faculty, and the second half will be relevant to faculty.


YuJa Quizzes March 29, 10-11 a.m. – Donald Robertson will show attendees how to create quizzes in YuJa, UNL's new academic video platform, and to have their grades sync with the Canvas gradebook.


Open Educational Resources April 5, 1-2 p.m. – Many people have heard of open educational resources, but what is OER and how can it provide greater equity in your classes? Brad Severa will provide information about how to leverage OER and provide options about how to adopt it in your courses.


Little Known Secrets of Canvas April 12, 1-2 p.m. – Explore quick tricks and secrets of Canvas that many faculty are not aware of. With a focus on the gradebook, faculty will benefit from this information packed session led by Jay Adams and Leah Widdowson.


What You Need to Know about Classroom Technology April 19, 10-11 a.m. – Donald Robertson will provide a demonstration of the common forms of classroom tech that you will encounter on campus. He will teach you the basic tips and tricks to get you up and running in case you run into tech trouble while teaching.


YuJa Analytics April 24, 10-11 a.m. – Jay Adams will train YuJa users on how to utilize the analytics dashboards in the tool. These dashboards provide insight into video watching and other stats and will be helpful for anyone incorporating YuJa into their courses.


To see all the available opportunities and to register, visit the training calendar on Bridge. All sessions will be recorded and made available online in the Academic Technologies shared folder on YuJa.

Technology Tuesdays
For just-in-time support and general questions about UNL technology, Academic Technologies will be offering Technology Tuesday office hours through May 9, 2-4 p.m. Faculty are welcome to join Academic Technologies staff on Zoom to ask any technology questions they might have. From Canvas to classroom technology to OneDrive, we are here to help with any technology needs you might have. No advance sign up is needed; just visit go.unl.edu/techtuesdays.

Want to stay in the loop for campus technology news? Join the IT-TIPS email list. Contact Amy Barry at amybarry@nebraska.edu with any questions.


More details at: https://its.unl.edu/