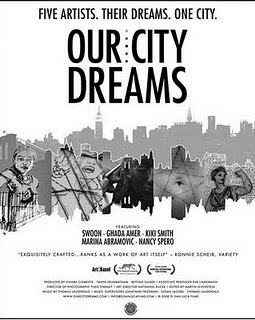 The Sheldon Museum of Art will screen "Our City Dreams" by Chiara Clement at 7 p.m., Feb. 22. After the film, UNL professors Marissa Vigneault and Wendy Weiss will lead a discussion. The screening and talk are free and open to the public.

Filmed over the course of two years, "Our City Dreams" is an invitation to visit the creative spaces of five women artists, each of whom possess her own energy, drive and passion. These women, who span different decades and represent diverse cultures, have one thing in common beyond making art: the city to which they have journeyed and now call home - New York.

Artists profiled are Nancy Spero, who was at the forefront of the feminist movement of the late 50s and 60s and whose work continues to question the polemics of sexual identity and warfare; Marina Abramovic, a pioneer of performance art who uses her own body as a canvas to respond deeply to contemporary cultural issues; Kiki Smith, who addresses philosophical, social and spiritual aspects of the human body through work that incorporates glass, plaster, ceramic, bronze and paper; Ghada Amer, who paints erotic canvases in traditional needle and thread and who refuses to bow to the puritanical elements of Western and Islamic culture and "institutionalized feminism"; and Swoon, one of New York's most promising emerging artists, whose arresting and fugitive street art transmits the pulse of urban life.

Director Chiara Clemente combines an intimate style of documentary filmmaking with the ephemera of city life surrounding each woman and the work she creates.
More details at: http://sheldonartmuseum.org