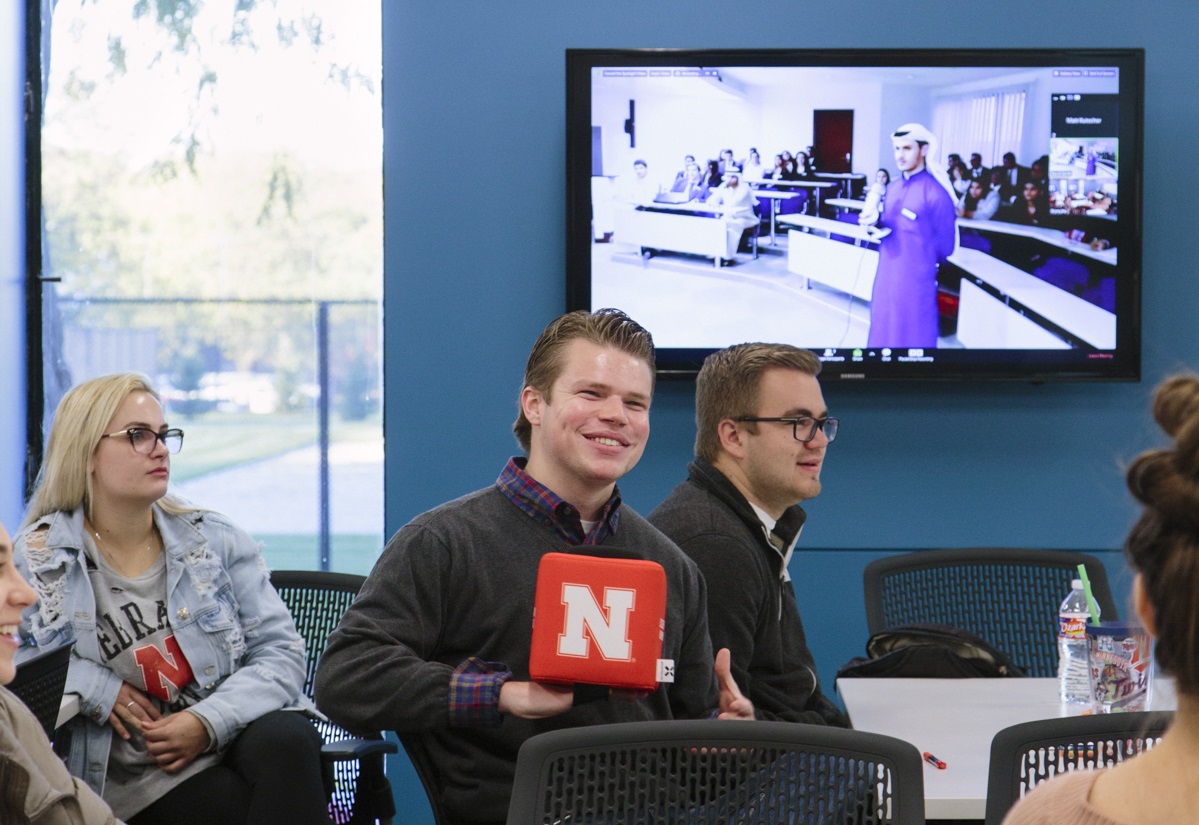 By Courtney Van Hoosen | Office of Global Strategies

Faculty at the University of Nebraska-Lincoln provide students with a world-class education. Leveraging one of the latest innovative approach in teaching, Nebraska faculty are now bringing students from around the world into their classroom through video conferencing and virtual exchange.

"[Virtual exchange] is a very, very exciting format to teach, and it creates a whole different dynamic in delivering world-class education," said Hospitality, Restaurant and Tourism Management professor Dipra Jha. "We live in a highly globalized world. Our students are graduating and going to be working in a highly interconnected, globalized workplace. It is critical that they pick up those global competencies and skills to be successful in their future careers."

Leading the way in technological innovation
Jha is currently leading one of the six faculty projects that was selected in 2018 for the Office of Global Strategies' grant, the Global Virtual Classrooms project. His first experience with teaching a virtual exchange class was his popular "Three Countries; One Classroom" virtual exchange project in Fall 2018 with his "Introduction to the Lodging Industry" course. Across 7,500 miles and a 9-hour time difference, Jha connected his students with those of his peers at The Emirates Academy of Hospitality Management in Dubai, United Arab Emirates and Oman Tourism College in Muscat, Oman. Jha's 2019 course has since expanded to "Six Countries", with new partners in the Ukraine, India and Denmark.

This September, Jha's project was shortlisted as a finalist for the 2019 GITEX Awards in Dubai. The Awards celebrate companies and organizations who are using technology to advance their goals in the most groundbreaking ways.

Watch a video about the "Three Countries; One Classroom" virtual exchange project that is up for an award.

The breakthrough for Nebraska's virtual exchange offerings came in 2018 when the university was awarded a prestigious Stevens Initiative grant from the Aspen Institute. Sponsored by the U.S. Department of State, the Initiative is an international effort to build global competency and career readiness for young people in the U.S. and the Middle East and North Africa regions, while growing and enhancing the field of virtual exchange.

After a very successful year that included six virtual exchange courses and reached more than 280 students in the U.S., Jordan, Oman and the United Arab Emirates, the Office of Global Strategies decided to continue encouraging faculty participation through its own Global Virtual Classrooms grant. During the inaugural round of awards, courses on topics ranging from social media and news, to tourism, sociology and beyond were chosen to expand on the innovative learning approach that has been taking place at Nebraska for over a decade. Over the next two years, the grant will reach an additional 400 students across more countries and diverse academic disciplines.

"I love to teach, but I've never been so excited as when I walk into a classroom knowing we're going to have a virtual exchange link," Nebraska's Dr. Charles Braithwaite said.

Learn more about virtual exchange at the University of Nebraska-Lincoln.

Dr. Braithwaite is a long-time advocate and virtual exchange expert who's been conducting virtual exchange sessions in his Communications Studies courses for the last 15 years. He remembers the days when it was a small, low-quality web camera on top of his computer that he used to video conference with students and faculty around the world. Now, Nebraska's faculty have access to the Zoom video conferencing platform and students can connect regularly via social media and messaging apps. Professor Jha has even applied for additional technology grants to use throwable Catchbox microphones and a telepresence robot nicknamed "Sophie" to augment his virtual classroom.

Over the years, Dr. Braithwaite has developed faculty partnerships with peers in Russia, Turkey, China, Pakistan, Yemen, Costa Rica and more on courses that have covered a variety of topics. Under the Global Virtual Classrooms grant, he will conduct synchronous and asynchronous exchange sessions with students from Shimane University in Japan for his "Cultural Encounters and the Great Plains" course.

"I can't imagine a single course that wouldn't benefit from even just a few sessions with a classroom in another classroom, even if it's not on exactly the same topic," Dr. Braithwaite added. "It changes you. It means you have to learn to adapt to a changing, multicultural world."

The 2019-2020 Global Virtual Classrooms awardees will certainly meet this varied range of academic disciplines. In addition to Professor Jha and Dr. Braithwaite's classes, awards were extended to Dr. Lory Dance (Sociology), Professor Gary Kebbel (Journalism), Dr. Patrice McMahon (Political Science), and Drs. Kara Viesca and Amanda Thomas (Teaching, Learning and Teacher Education).

Meeting student demand for more virtual exchanges
Students at both Nebraska and at its partner universities equally agree that the new classroom approach has been extremely beneficial for them. Sophomore computer science major Alex Richardson said his world perspective had changed as a result of taking a programming course with a virtual exchange component.

"I really think that it's just an awesome opportunity to be able to see different cultures without even having to leave your own town," Richardson added.

"[This virtual exchange course] changed me in so many ways," said Nadine, a student from the University of Jordan. Her class partnered with Dr. Lory Dance's immigration and multiculturalism sociology course. "It got me out of my comfort zone which is a really great thing, because I'm usually a shy person. But while doing those meetings, talking and asking and doing presentations, it boosted the level of my confidence and again built up my personality and changed me as a person."

Nebraska's Elizabeth Byrnes, a junior sociology and communication studies double major who take the same class as Nadine, said, "This virtual exchange experience showed me that there are similarities between me and other young people around the world. I realized that although we communicate differently, although we may speak different languages—this class made me want to build more connections."

Evaluation data from the 2018 virtual exchange courses also reveals that students highly recommend the program to peers and want more opportunities at their institution. Nebraska students averaged a score of 4.59 out of 5 in agreement that they would recommend more virtual exchange courses be offered at UNL. International partner students shared the sentiment, and averaged a score of 4.28 out of 5 in recommending the program to other students.

As emphasized in Chancellor Ronnie Green's State of the University address in celebration of its 150th anniversary, Nebraska is committed to its mission of teaching, research and serving. Along with other university efforts and innovation, virtual exchange courses will help UNL reach greater heights as a "world-leading 21st century Land Grant University–a University truly without walls."

For more information about virtual exchange at Nebraska or the Global Virtual Classrooms project, contact the Office of Global Strategies at globalstrategies@unl.edu.