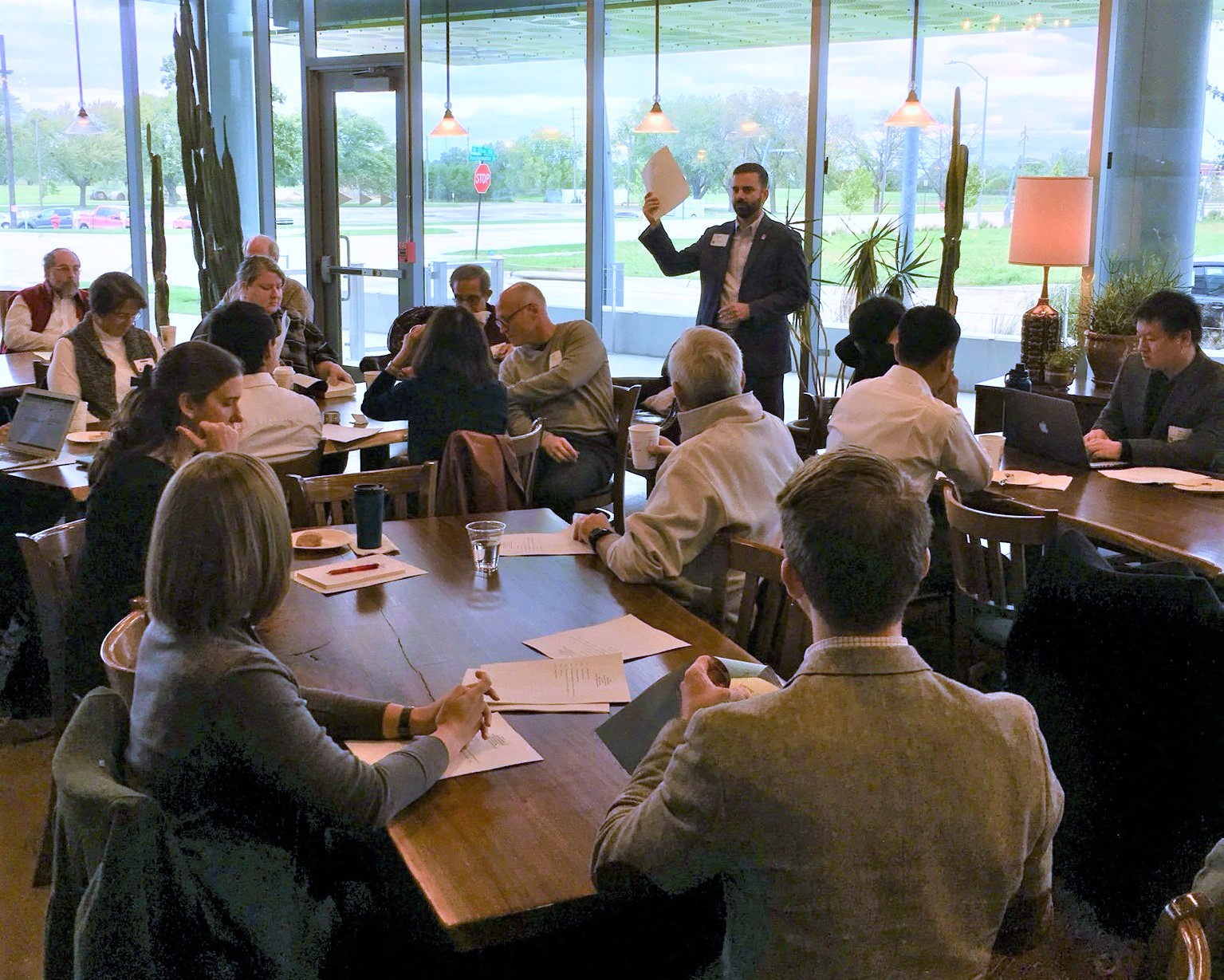 By Courtney Van Hoosen | Office of Global Strategies

A new grant is available to support University of Nebraska-Lincoln faculty and their international research collaborations—the Collaboration Initiative: Research with a Global Impact award.

The grant is a subcategory award for the University of Nebraska system Collaboration Initiative designed to facilitate research that involves international collaborators, and that benefits Nebraska research competitiveness and capacity. On Friday, October 11, Associate Vice Chancellor for Global Affairs, Josh Davis, co-hosted a workshop about the award in partnership with UNL's Office of Research and Economic Development (ORED).

"I was so glad to host this event with Deb Hamernik from ORED. I had many great conversations with faculty about their work around the world, and about how the Office of Global Strategies can further support their international collaborations," said AVC Davis.

Two grants are available under the subcategory Research with a Global Impact award: Planning and Formed/Forming Team Seed Grants. There will be two awards each announced across the University of Nebraska system for both Planning and Seed grants.

The Planning Grants are designed to facilitate and build new research collaborations across the University of Nebraska system and abroad. Planning Grants provide up to $20,000 for one year to cover direct expenses such as planning meetings, travel to meet program officers at funding program agencies, and costs to facilitate experimental design or identify knowledge gaps to be addressed in a competitive extramural application.

Formed/Forming Team Seed Grants are awarded with the goal to enhance research collaborations among faculty that have previous collaborations and are preparing for competitive extramural applications. The selected applications will be awarded up to $150,000 over two years, and must actively generate knowledge or preliminary data to apply for extramural funding. Team members providing core leadership for the team must have individual records of extramurally-funded research as a PI or Co-PI, and are expected to submit extramural applications for at least $200,000/year at the end of the grant.
General eligibility for the Research with a Global Impact award requires faculty to be an Assistant, Associate or Full Professor, or an equivalent-rank research faculty member. The PI can be a faculty member from any University of Nebraska campus, and teams must include (1) at least one collaborator from a different NU campus and (2) at least one collaborator based outside the U.S. PIs must also attend the October 31st Collaboration Initiative Retreat hosted at Nebraska Innovation Campus to be eligible for the award.

The Office of Global Strategies and ORED are eager for this opportunity to create more support for global collaborations between UNL and partner faculty abroad. UNL has an extensive history of international collaborations, as can be seen on the Mapping Internationalization website, and AVC Davis is excited to see it expand.

"Our faculty are engaged in various disciplines around the world. For example, Dr. Hiep Vu in the Nebraska Center for Virology and Department of Animal Science recently accompanied us on the Governor's Trade Mission to Vietnam, where we met with universities interested in collaboration on Dr. Vu's research in swine viruses like African swine fever," said AVC Davis.

"UNL also has extensive partnerships in Rwanda, like its role in curricular support for the new Rwanda Institute of Conservation Agriculture," AVC Davis added. "Liz VanWormer's work with Nebraska One Health is another great example that combines faculty research and education initiatives around the world to recognize the connection between humans, and the health of animals and the environment."

Registration for the required PI Retreat will close on October 24. The retreat will take place at the Nebraska Innovation Campus Conference Center from 9:30 a.m. to 3:30 p.m. on October 31, and will include a light lunch. Space for the event is limited, so interested faculty are encouraged to register as soon as possible.

Submissions for the Research with a Global Impact awards are due January 13, 2020 at 5:00 p.m. CST. Information about the grants can be found on the Collaboration Initiative website, and the Request for Applications can be found here.

For questions about the Research with a Global Impact award or application, please contact Kelly Dick at kdick@nebraska.edu or Deb Hamernik at dhamernik2@unl.edu.