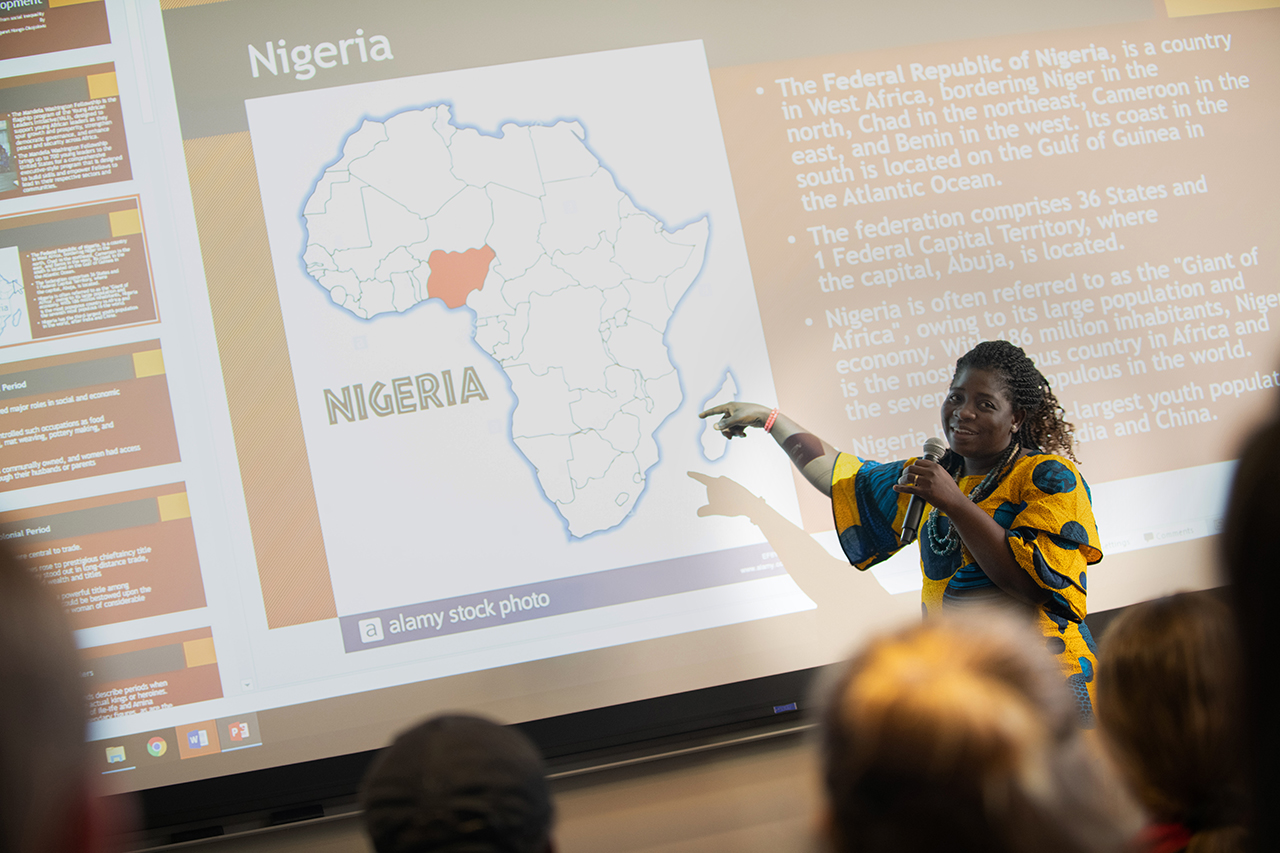 This story was originally published on Nebraska Today, written by Lindsey Amen.

Like many international students, Margaret Nongo-Okojokwu arrived at the University of Nebraska–Lincoln for the start of her degree feeling a combination of uncertainty and excitement. Except this fall semester was not the first time she was on campus.

Nongo-Okojokwu first traveled from her home country of Nigeria to Nebraska in summer 2017 to take part in the university's inaugural Mandela Washington Fellowship Leadership in Civic Engagement Institute. The Mandela Washington Fellowship for Young African Leaders is the flagship program of the U.S. Department of State's Young African Leaders Initiative (YALI), and is their signature effort to invest in the next generation of African leaders. During the six-week program hosted by UNL's Office of Global Strategies, the Fellows connected with Nebraskans and enriched the local community while studying best practices on leadership and civic engagement.

Despite having to leave her family for over a month, she was attracted to the networking and learning opportunities of the program and believed she could bring valuable new skills back to her work as a media specialist in the Nigerian energy industry.

At the end of the Institute, Nongo-Okojokwu said, the initial uncertainty she felt had melted away—and the university itself had left a special impact on her that she couldn't forget.

"I looked around at the town and the people, and it was welcoming and warm. I like the calmness here. I felt like my children can grow here. I fell in love with Lincoln, and I thought instantly, 'I want to come back,'" Nongo-Okojokwu said.

This semester, Nongo-Okojokwu has returned to the university as a first-year student in the College of Journalism and Mass Communication's integrated media communications graduate program. She is the first of Nebraska's Mandela Washington Fellows to come back for a master's degree, after having stayed in close contact with one of the faculty members involved in the 2017 program, Dr. Frauke Hachtmann.

Part of her motivation to return came from a solutions journalism seminar she participated in during the Fellowship. In the class, she realized that a more in-depth education could help her create a bigger impact in the oil and gas industry in Nigeria.

"I've been in journalism for 12 years, so when I got the opportunity to apply, I was excited to find out about the IMC track," Nongo-Okojokwu said.

Along with being a student this fall, Nongo-Okojokwu is also helping teach the journalism course "Social Justice and Human Rights in the Media" as a Graduate Assistant. She plans to use her own experiences in Nigeria, where free information and press can be limited, to give her students an expanded look at the subject.

"For me, personally, it's a good thing to have a global view of the field where you're working. Coming from the media, it's good to have a perspective from the other side," Nongo-Okojokwu said.

As she settles into her home, Nongo-Okojokwu is excited to be a part of Nebraska's thriving global community, which she believes provides an invaluable perspective to the entire university.

"Having students come from different parts of the world, bringing their own experiences and culture, creates a balance that says 'This is not all about us. The world is not about this particular place, or these kind of people,'" she said.

The Mandela Washington Fellowship for Young African Leaders is sponsored by the U.S. Department of State with funding provided by the U.S. Government and administered by IREX. Nebraska has hosted one of its Leadership in Civic Engagement Institute each summer since 2017, coordinated by the Office of Global Strategies. For more information about the Fellowship, please visit http://www.mandelawashingtonfellowship.org.