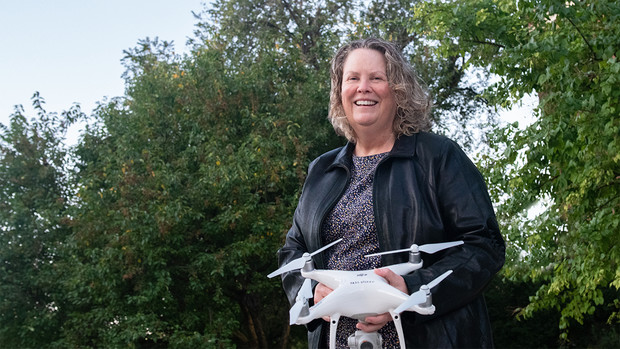 Nebraska would not be the same without the incredible faculty at the university. This section highlights faculty that have been featured across campus in the last month for their research achievements, academic work, and journey to Nebraska.

Meet some of Nebraska's incredible faculty, including those who earned prestigious Fulbright research awards, published new books, and earned new grants for their research.

Etched in limestone: Fulbright award taking Frank to Ireland
Nebraska's Tracy Frank will soon get a drone's-eye view of a limestone-laden stretch of Ireland — one rich with information on how the Earth transitioned from greenhouse to icehouse around 350 million years ago. In January, the professor of Earth and atmospheric sciences will travel to Ireland by way of a coveted Fulbright U.S. Scholar Award. Over the subsequent six months, Frank will research and teach from the National University of Ireland, Galway.
Read More

New book explores America's military presence in postwar Germany
Alexander Vazansky, assistant professor of history at the University of Nebraska–Lincoln, is the author of new nonfiction book "An Army in Crisis: Social Conflict and the U.S. Army in Germany, 1968-1975." The book, which was published Oct. 1 by University of Nebraska Press, examines the social crisis that developed among American armed forces stationed in Germany between 1968 and 1975.
Read More

Nebraska biochemist investigates cells' 'power supply' for degenerative disease clues
For University of Nebraska–Lincoln biochemist Oleh Khalimonchuk, what began as a simple research question about a single protein has morphed into an expansive quest to identify the complex causes of numerous degenerative diseases. Khalimonchuk, Susan J. Rosowski associate professor of biochemistry, has earned a $1.8 million National Institutes of Health Maximizing Investigators' Research Award to continue his studies into mitochondria and their roles in degenerative diseases like Lou Gehrig's, Parkinson's and Alzheimer's, some cancers and other progressive illnesses.
Read More

Country-specific dietary shifts to mitigate climate and water crises
New Johns Hopkins Center for a Livable Future and DWFI research measures the climate and freshwater footprints of nine plant-forward diets in 140 countries. The study found that achieving an adequate, healthy diet in most low and middle income countries may require a substantial increase in greenhouse gas emissions. To counter these impacts, researchers recommend that high-income countries accelerate adapting plant-forward dietary shifts.
Read More

Early detection of changing ecosystems is aim of Nebraska-led research
With a four-year, nearly $4 million grant from the National Science Foundation's Established Program to Stimulate Competitive Research program, UNL ecologist Dirac Twidwell's team is collaborating with University of Montana researchers to develop and implement first-of-their-kind screening tools that enable earlier, more precise detection of subtle changes that foreshadow destabilizing ecological transitions.
Read More

To submit a faculty or staff feature for the next edition of the Global Nebraska newsletter, please contact Courtney Van Hoosen in the Office of Global Strategies at cvanhoosen2@unl.edu.