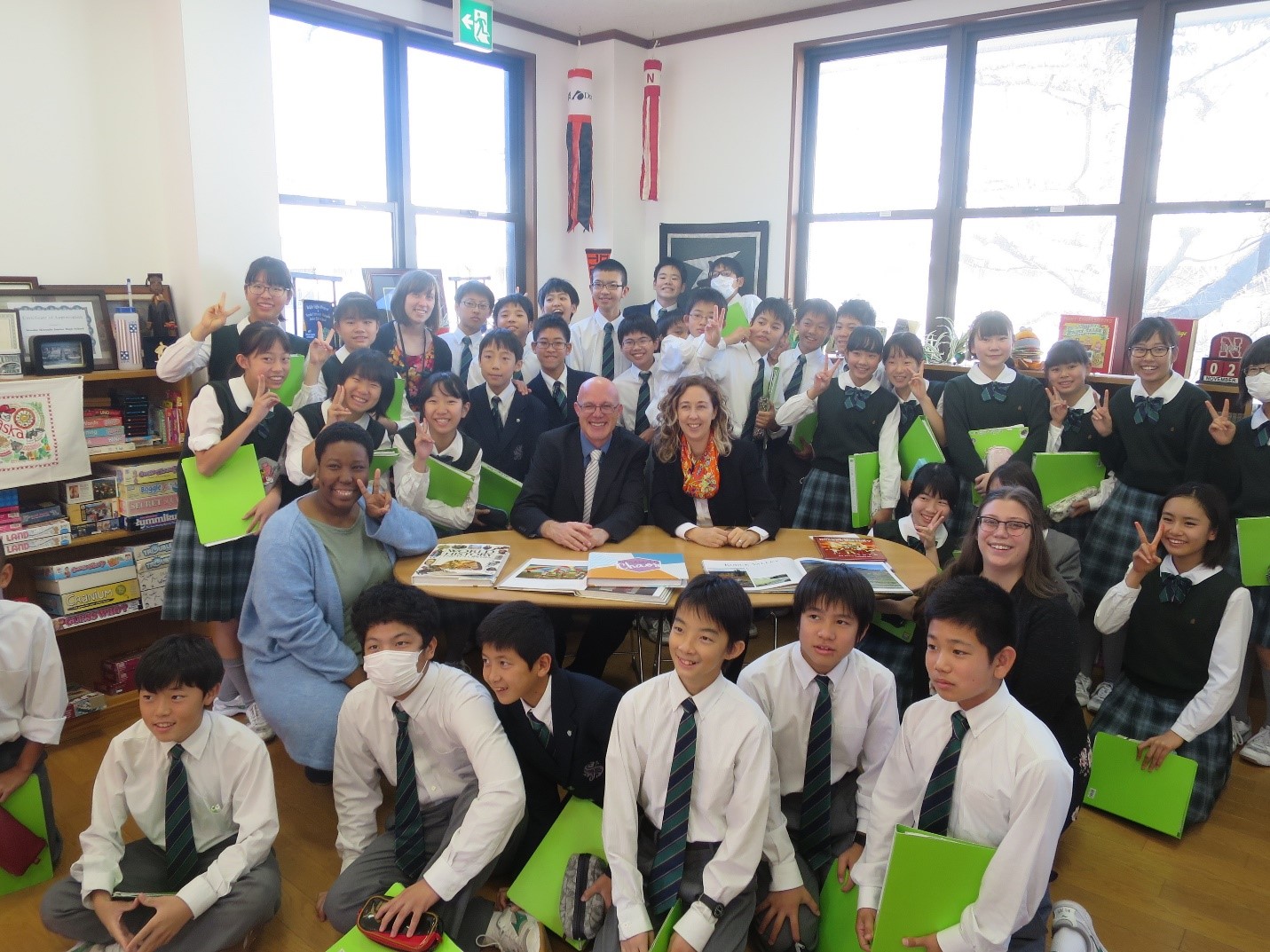 In November 2018, Programs in English as a Second Language (PIESL) Director, Chris Dunsmore, along with the Director of the Office of Global Strategies, Maegan Stevens-Liska, visited Senshu University Matsudo Junior and Senior High School in Chiba, Japan.

The school, colloquially called Senmatsu, is one of PIESL's longest-standing international partnerships. During their visit, Dunsmore and Stevens-Liska received a tour of school facilities and met with Senmatsu administrators and faculty to discuss current and future collaboration.

"The relationship between the University of Nebraska-Lincoln (UNL) and Senshu Matsudo High School remains very strong," noted Dunsmore. "We are looking forward to continuing the relationship well into the future."

More than 100 junior high and high school students from Senmatsu visit Lincoln each summer to experience American culture and improve their English language skills. 30 high school students and two faculty members are again scheduled to complete a program with PIESL in July 2019. Students will participate in workshops on campus during the day and take part in various cultural activities in the afternoons, including a visit to Lincoln Southwest High School. Approximately 65 junior high school students from Senmatsu will also visit Lincoln this June as part of the Bright Lights Summer Learning Adventures program in partnership with Lux Middle School.

While at Senmastu, Dunsmore and Stevens-Liska received a tour of both Junior and Senior High facilities. The tour was led by two current UNL students, Hope Anderson and Danielle Young, who are completing an English-teaching internship for the fall semester through the Global Studies program.

The tour included a visit to Ambition Hall, a unique facility with classrooms designed to appear and function like those in the U.S. In fact, most of the building's décor is Nebraska-themed, including items from the state and UNL that have been collected over the long history of collaboration. Dunsmore and Stevens-Liska were also able to interact with English language instructors and observed some of the junior high students practicing conversational English in the classrooms.

As their first visit to Senmatsu, both Dunsmore and Stevens-Liska stated they were highly impressed by the commitment to the decades-long partnership displayed by everyone they met. In fact, Stevens-Liska said the long relationship is a strong testament to the dedication of both UNL staff and faculty, and its partners in Japan.

"Meeting with school leadership, watching our interns teach and interact with students at the Junior High School, and seeing the impact our program has on young people in Japan was inspiring," said Stevens-Liska. "It truly demonstrates the reach of UNL's global engagement efforts across the world."

To learn more about the Senmatsu Junior High Internship program, view the Internship Guide on the Global Studies website. To learn more about the UNL-Senshu University partnership, visit the Nebraska Today website.