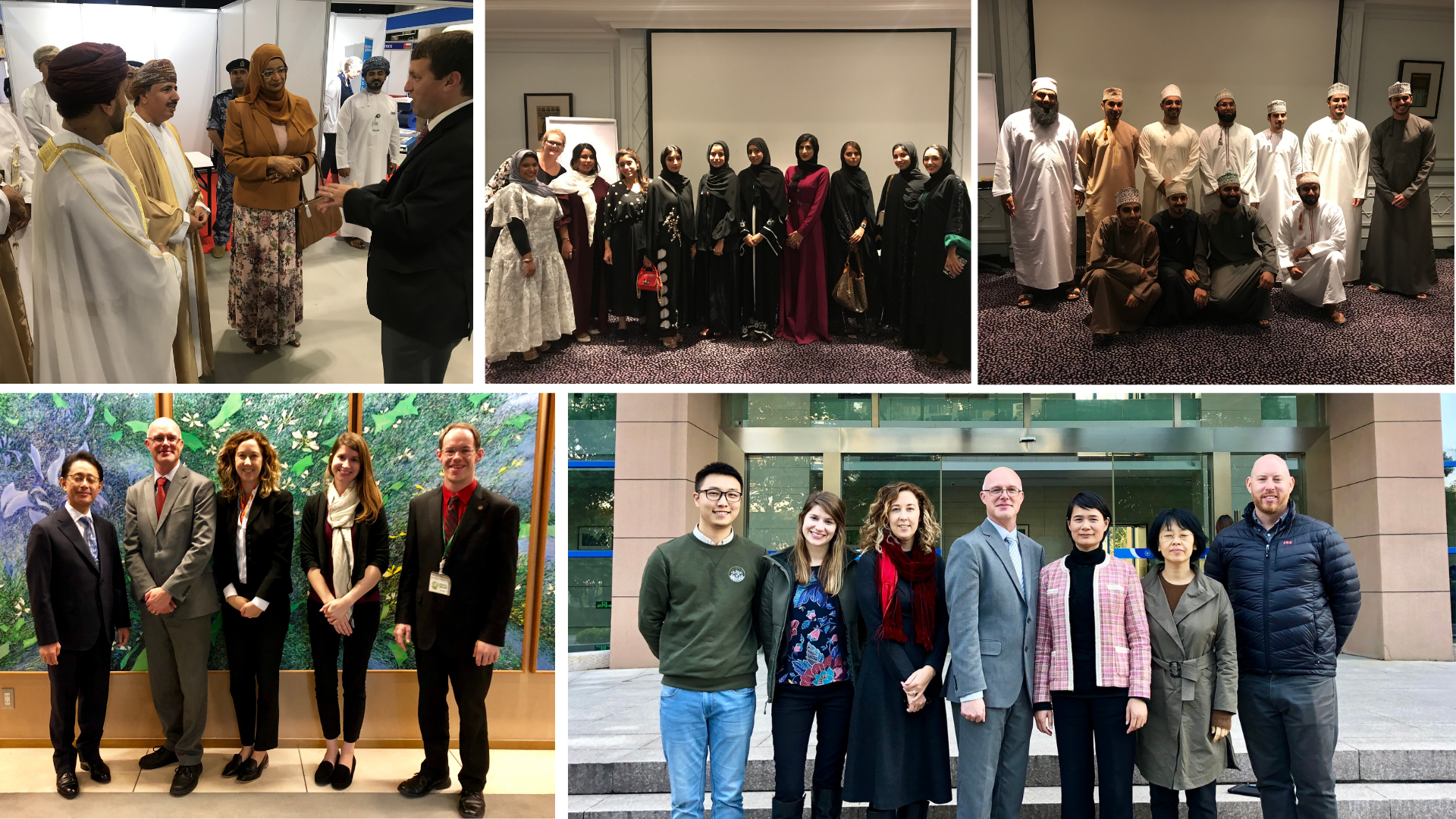 In October and November, staff from the University of Nebraska-Lincoln (UNL) Office of Global Strategies and Programs in English as a Second Language (PIESL) traveled to Oman, Japan and China to welcome prospective and incoming students, connect with alumni, and meet with current institutional partners as a testament to the university's commitment to global engagement.

At the end of October, Global Initiatives Officer Erika Hepburn traveled to Muscat, Oman to meet with colleagues at the University of Nizwa and Oman Tourism College. Faculty at both institutions are partnering with UNL on the Global Virtual Project, in which students from Oman and Nebraska increase global competencies through synchronous and asynchronous virtual exchanges.

Hepburn also participated in the Edutrac Recruitment Fair, one of the largest multi-sector recruitment events in Oman. The fair is organized by Al Nimr Exhibitors and reflects Oman's dedication to improving the quality of education as part of its ninth Five Year Plan. According to Hepburn, Oman's Minister of Higher Education paid special acknowledgment to UNL and the NU system with a visit to their booths during the Edutrac fair. The minister expressed his gratitude for NU's hosting of more than 300 sponsored Omani students, over half of which are enrolled at UNL.

On Saturday, October 27, Hepburn helped host a reception and pre-arrival orientation for incoming NU students and their parents with Steven Duke, NU Associate Vice President for Global Strategy and Asta Reiff, English as a Second Language Specialist at the University of Nebraska-Omaha (UNO). More than 50 students and parents met with NU alumni and learned more about their future Nebraska experience. Hepburn considers such in-country engagement to be beneficial for attendees' confidence that Nebraska, like Oman, is a safe and welcoming place to live, learn, thrive and grow. Following the orientation, UNL and UNO hosted the first-ever NU Alumni Reception in Muscat and connected with 25 alumni at the Radisson Blu Muscat.

"It's incredible to see the relationship that has developed between Oman and Nebraska over the last few years," Hepburn said. "Our Omani student enrollment has increased exponentially—from zero students in 2011 to nearly 200 students in 2018—and our partnerships within the region have grown alongside them. Together, we have laid the foundation for decades of mutually beneficial cooperation between UNL and Oman."

In November, Office of Global Strategies Director Maegan Stevens-Liska, Global Initiatives Office Rachel Ayalon and PIESL Director Chris Dunsmore traveled to Japan and China to meet with current international partners and discuss potential future collaborations. In Tokyo, they visited UNL's partners at Senshu University Matsudo (Senmatsu) Junior and Senior High School.

"Our decades-long partnership with Senmatsu is a testament to the dedication of both UNL staff and faculty, and our partners in Japan," said Stevens-Liska. "It was such a joy to meet with school leadership, the UNL students currently interning there, and interact with students at the junior high."

The delegation also visited Senshu University in Tokyo, UNL's 30-year partner and Senmatsu's affiliated university. The next day, they traveled to Kobe to meet with colleagues at the University of Hyogo and its high school to discuss future collaborations with study abroad programs and English language learning workshops.

"Over the past several years, I have had the opportunity to assist in hosting delegations from the University of Hyogo and Senshu University at Nebraska," said Ayalon. "It was exciting to connect with our partners abroad and explore areas of future growth."

During the final leg of their trip, the delegation met with the China Scholarship Council in Beijing and visited the UNL-Zhejiang University City College (ZUCC) Partnership Degree Program (PDP) in Hangzhou.

"The robust English language learning program UNL offers at ZUCC for students in their first two years of undergraduate study, followed by two additional years on the UNL campus in Lincoln, has proven to be a huge success," said Sonia Feigenbaum, Associate Vice Chancellor for International Engagement and Global Strategies. "Over the past ten years, more than 160 students have earned their undergraduate degree from UNL. We are proud of our partnership with ZUCC and look forward to expanding the PDP in the years ahead."

Noting the success of all the trips and how pleased she was with the outcomes, Feigenbaum added, "This is yet another example of the breadth of our commitment to global engagement at UNL."