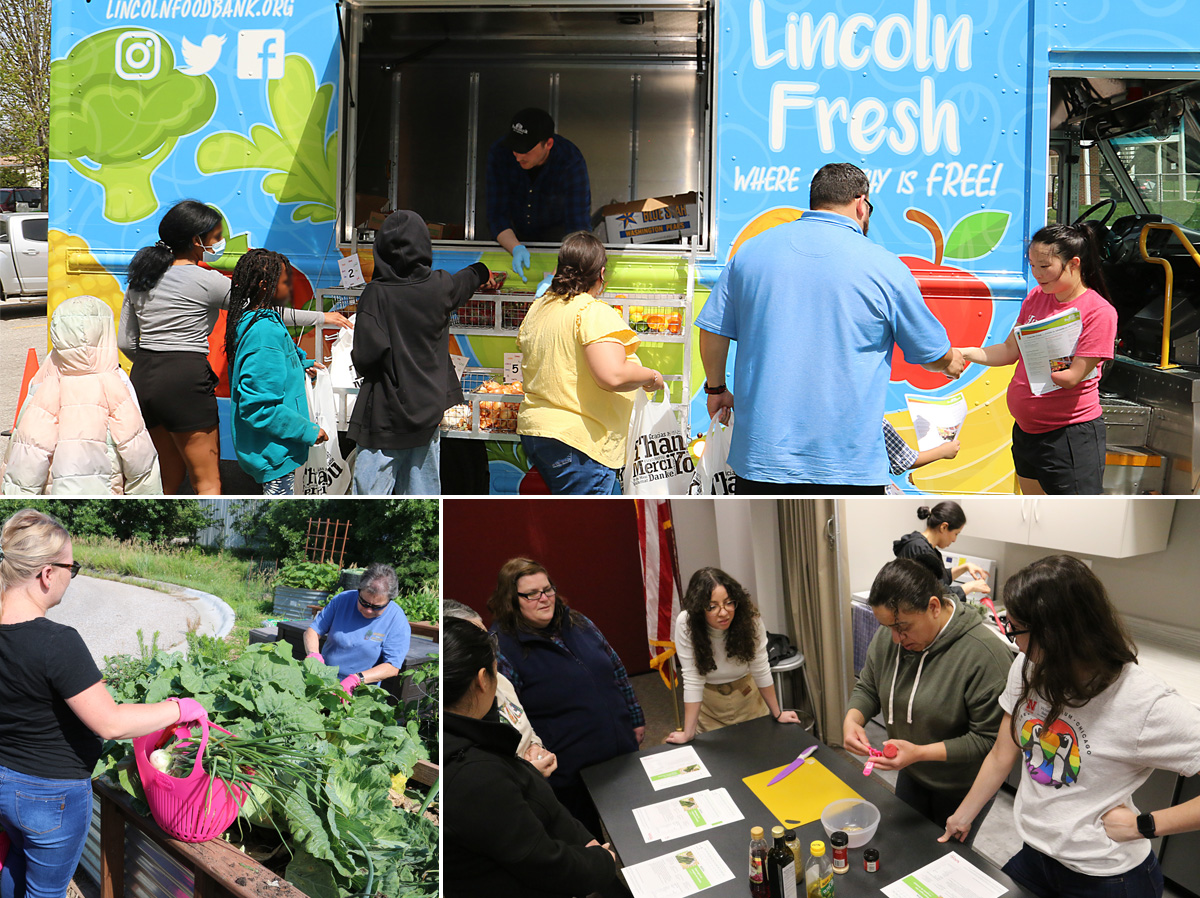 By Emily Gratopp, MS, Extension Educator in Lancaster County

Nebraska Extension has long been partnered with federal grant programs to increase health and nutrition, especially for community members who are living on lower incomes. In addition to these federal funds, Nebraska Extension also invested in faculty and staff in various counties across the state to encourage health and nutrition for all Nebraska residents.

Nebraska Extension in Lancaster County has a team of seven to nine professionals (dependent upon staffing and grant-funding transitions) dedicated to improving nutrition and health using both Extension and federal grant funds. An emphasis on nutrition is not new to Extension or the U.S. government. The two main nutrition-based federal grant programs were established 52 and 30 years ago: the Expanded Food and Nutrition Education Program (EFNEP) and the Supplemental Nutrition Assistance Program-Education (SNAP-Ed), respectively.

NEW EMPHASIS
What's new is the emphasis on nutrition in the field of food access and food systems, including food pantries, school lunches and food retail locations. In 2021, an emphasis was placed on making nutritious eating accessible for all Americans, including those who have limited incomes. This emphasis is called Nutrition Security, and the concept has a national agenda, two blogs and a website, along with national funding streams into the millions.

WHAT IS NUTRITION SECURITY?
Nutrition Security is defined as, "all Americans having consistent access to the safe, healthy, affordable foods essential to optimal health and well-being." The website created by the U.S. Department of Agriculture (USDA) contains this definition and a link to an infographic on the topic. Enhancing nutrition security is about getting the RIGHT kinds of foods — versus the long-promoted concept of food security, which focuses on getting ENOUGH food. The website and infographic is at http://www.usda.gov/nutrition-security.

POOR NUTRITION LEADS TO INCREASED DISEASES
How is nutrition security important enough to become a national priority? Being food insecure has a strong correlation with poor nutrition, and poor nutrition leads to increased disease states, including chronic disease. According to the Centers for Disease Control and Prevention (CDC), chronic diseases are becoming more common with 1 in 3 people having a chronic disease and 1 in 4 having two chronic diseases. America is not only suffering from the diseases themselves, but also from the cost of them. For example, diabetes is the most expensive chronic disease, costing the nation $327 billion annually. Diabetes is the eighth leading cause of death in the U.S. while heart disease and cancer take the lead positions in that category.

The top methods to alleviate these chronic diseases are linked to lifestyle and behaviors. These behaviors include the small choices Americans make in everyday life. Four behaviors, in particular, have been identified as having the biggest impact on either increasing or decreasing chronic disease and the associated healthcare costs: tobacco use, nutrition, physical activity and alcohol use.

SNAP DOLLARS INCREASED
U.S. Secretary of Agriculture Tom Vilsack has focused on the behavior of nutrition by defining and drawing attention to nutrition security in addition to increasing financial support to make nutrition accessible for all Americans. One major accomplishment to bolster nutrition security in 2021 included studying the Thrifty Food Plan (TFP), which determines the dollar amount households of varying sizes receive in the Supplemental Nutrition Assistance Program (SNAP, formerly known as Food Stamps). The study determined that the TFP had not been making substantial cost-of-living increases since it was last revised 40 years ago. So, families were not getting the assistance they needed from SNAP in order to eat a whole, nutritious and well-balanced diet. The study led to action that included a 30% increase in the TFP, in the hopes that these households will choose to sustain their families with nutritious foods, not just more food.

FOOD ACCESS NOW ABOUT NUTRITION ACCESS
As the USDA emphasizes, "Broadly, Americans suffer from poor nutrition." Secretary Tom Vilsack stated, "This is serious business. This is not just public policy and research and all of that. This is serious business that impacts and affects how people feel and think of themselves, and how they relate to the rest of the world and whether they can maximize their God-given talents."

No longer is food access work simply about food or calorie consumption to minimally sustain an individual or family. Food access is now about nutrition access — access to high quality, nutrient-dense foods that will nourish bodies and minds, ease the increasing clinical costs of disease and allow for Americans to reach their personal potential.

EXTENSION'S NUTRITION EDUCATION PROGRAM EFFORTS
The Nutrition Education Program (NEP) in Lancaster County has a partnership between SNAP-Ed and EFNEP, along with additional smaller grants, to implement a robust and impactful nutrition-based program that increases nutrition security for audiences of all ages and through community-wide efforts. SNAP-Ed is the educational component of SNAP and helps individuals and families lead healthy lives, in part, by using their SNAP benefits for purchasing, cooking and consuming healthy foods and nutritious meals. EFNEP focuses on building similar healthy habits for families with small children.

Lancaster County NEP consists of the team of people implementing these grants to improve nutrition security. The examples below are ways in which NEP increases nutrition security in Lancaster County:

• Children ages birth through 5 are supported with Nutrition and Physical Activity Self-Assessment for Childcare Centers (NAP SACC), which helps childcare centers and homes establish healthy environ­ments and nutritious diet patterns in young children.

• All elementary-age children in 21 Title I schools (schools with 50% or more of students receiving free- or reduced-lunch), numerous classes in middle and high schools, and additional community organizations receive nutrition education curriculum and experiences.

• Adult parents (sometimes teenagers), adults in low-income housing or residential programs, and adults reached through culture centers or their children's schools, receive nutrition education.

• Senior citizens living in low-income housing units receive specialized nutrition education.

• Healthy foods are showcased through engaging food demonstrations at community events.

• NEP coordinates Double Up Food Bucks (DUFB) in Lancaster County, which offers SNAP participants the opportunity to double their dollars in fresh produce and partners with local farmers to increase consumption of locally grown fruit and vegetables.

• NEP establishes and sustains gardens to grow fresh vegetables and herbs increasing availability of affordable, fresh produce in food pantries and meal programs.