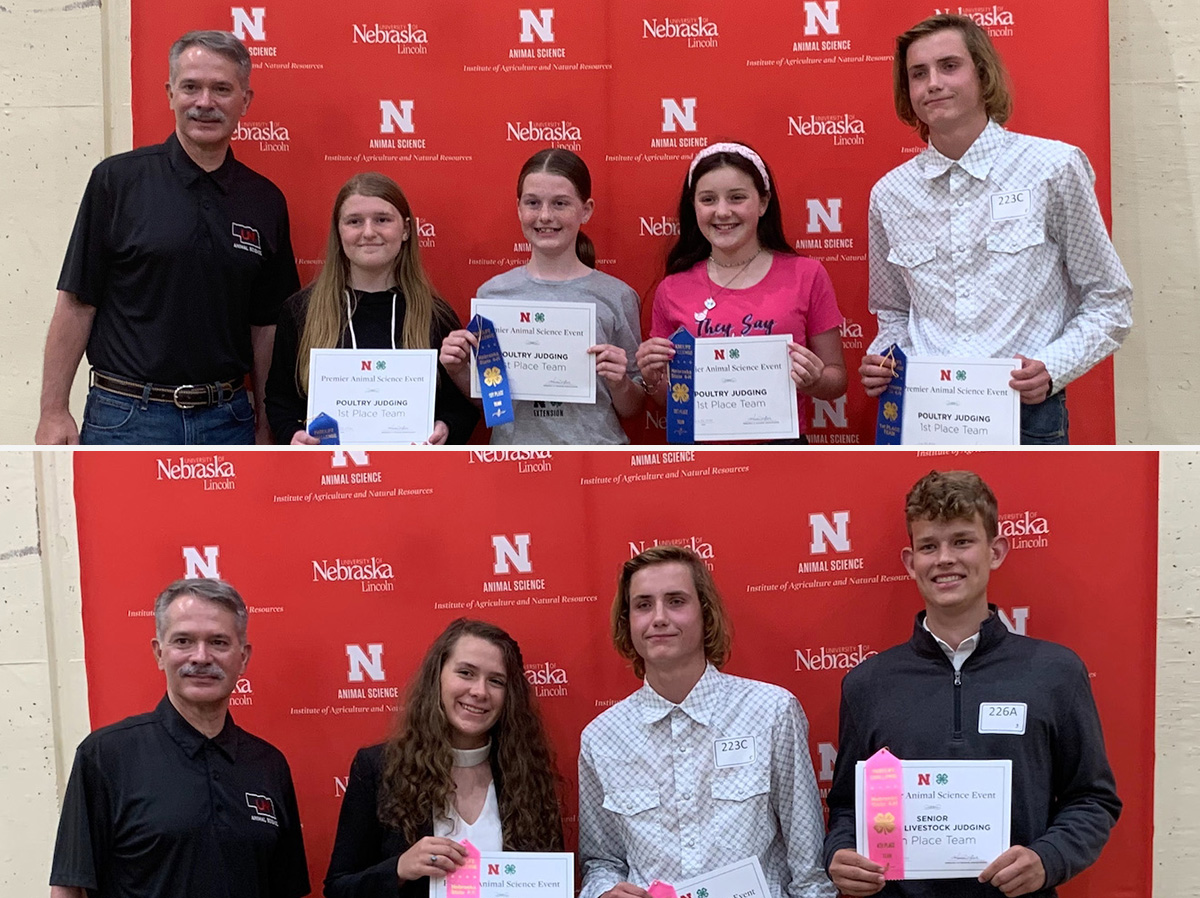 Congratulations to the Lancaster County 4-H'ers who competed at the state Premier Animal Science Event (PASE) held at University of Nebraska– Lincoln East Campus on June 22–23. During this two-day event, 4-H'ers participated in poultry judging, meats judging and livestock judging. Results and photos can be found at https://4h.unl.edu/pase.

The POULTRY JUDGING CONTEST consisted of a class of judging hens for past production, oral reasons on the production hen class, grading eggs, grading ready-to-cook poultry and identification of ready-to-cook parts. The Lancaster County team of Catherine Polk, Noah Jelinek, Maria Polk and Marylynn Rauert received 1st place overall! Individually, Noah Jelinek placed 2nd overall in the senior division and Maria Polk placed 4th overall in the intermediate division. Claire Polk also participated in this contest as an individual.

The MEATS JUDGING CONTEST consisted of retail-meat-cut identification, food safety practicum lab exercises, a written test and placing classes of retail cuts. Luke Johnson participated in this contest as an individual.

The LIVESTOCK JUDGING CONTEST consisted of ranking animals in classes of four — from the most to least desirable. Classes included market and breeding beef, sheep, meat goats and swine. Youth also gave oral reasons to judges to defend their reasons for ranking the animals. A huge thank you to coach Tyler Pickenpaugh, who spent countless hours working with the Lancaster County teams. In the senior division, as a team, Auren Burkey, Lillee Chevalier, Noah Jelinek, Luke Johnson and Olivia Vanderford placed 9th in cattle, 7th in sheep & goats, 4th in swine, 8th in reasons and 7th overall. Individually, Noah Jelinek placed 13th in sheep & goats, 15th in swine and 9th overall. In the intermediate division, Hannah and Grace Chevalier participated as individuals.