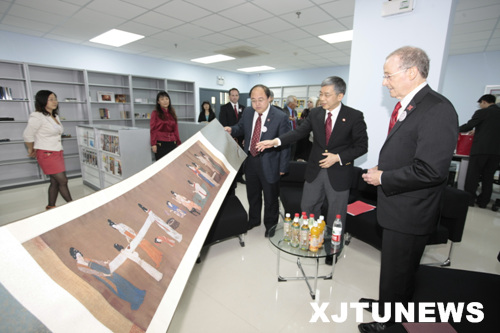 Nov. 13-16 is Xi'an Jiaotong University Week featuring a variety of events, performances, discussions and meetings with dignitaries from XJTU.

A highlight of the event is a Nov. 14 concert at Sheldon Museum of Art Auditorium featuring a traditional Chinese music ensemble from Xi'an Jiaotong University and the Skyros String Quartet from UNL. The free concert begins at 5 p.m. followed by a reception hosted by the American Exchange Center at XJTU.

A Chinese Movie Night is planned for 7 p.m. Nov. 16 at the Nebraska Union, to watch the movie "Hero." A photography exhibition is Nov. 14-16 at Eisentrager-Howard Gallery at Richards Hall.

Special guests during the week's events include XJTU vice president Song Xiaoping, executive vice dean Song Yuxia, vice director He Changzhong, together with Chen Guangde, president of Xi'an Jiaotong University City College.

Xi'an Jiaotong University is a leading research university in China, with programs in science, engineering, medicine, economics, management, art, law, philosophy and education. It has a current enrollment of more than 30,000 students. Xi'an, with a population of about 10 million, is China's third "international city" behind Beijing and Shanghai.

In April NU opened the American Exchange Center at XJTU and celebrated American Culture Week in Xi'an including a lecture from University of Nebraska Medical Center students, photography exhibits and lectures from UNL faculty, and performances by the University of Nebraska at Omaha Jazz Quintet and a Xi'an Jiaotong student music and dance troupe.

The opening of the cultural center – one of only 10 such centers – follows the establishment of the Confucius Institute at UNL – and partnership degree programs at Xi'an Jiaotong University City College and Zhejiang University City College.