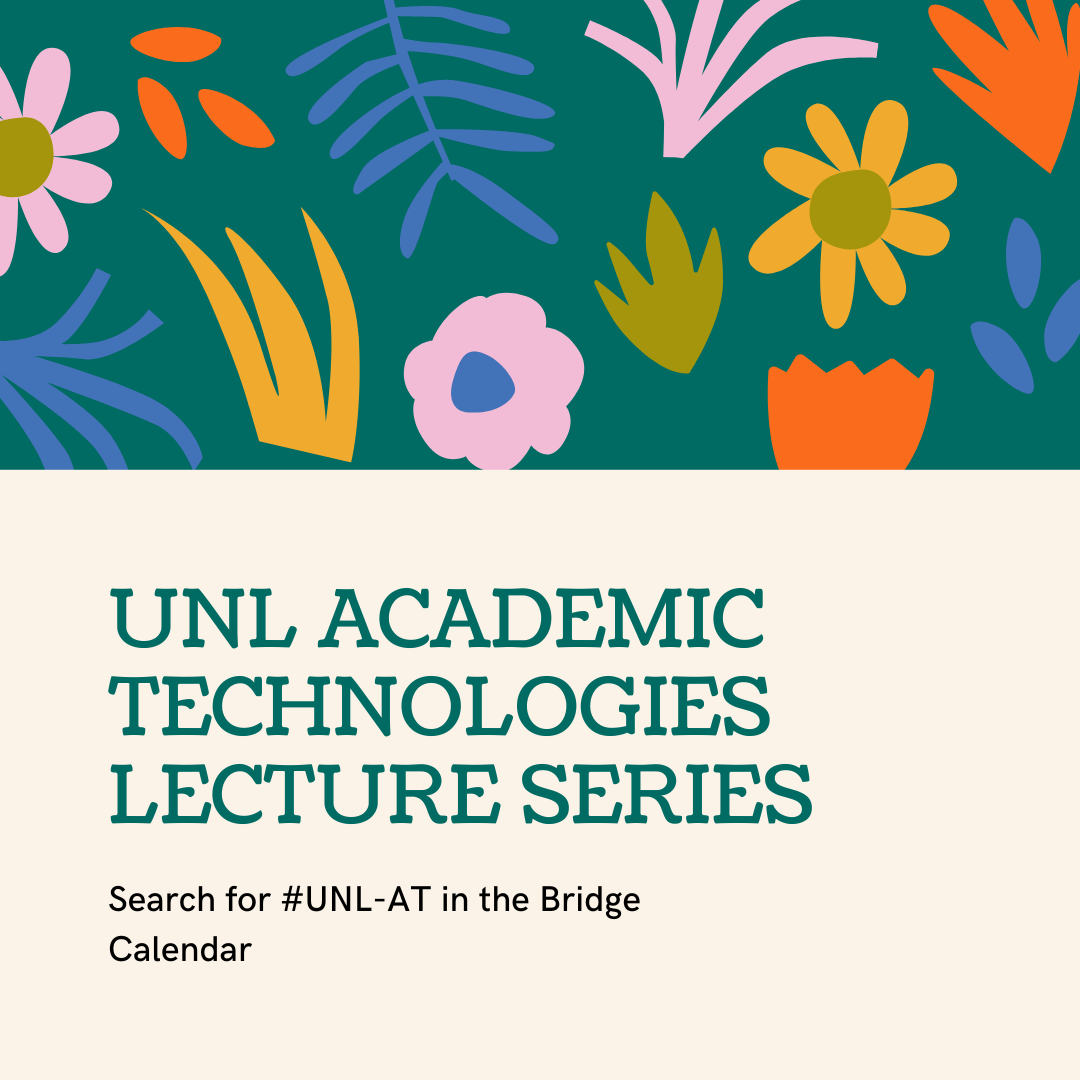 Over winter break, Academic Technologies made several small changes to the Canvas user interface. Assignment Enhancements was added in Canvas (this changes the assignment UI for students), Help Menu links in Canvas were adjusted, and a link to Bridge at the bottom of the main Canvas navigation bar was added. Learn more about the changes here.

This spring, Academic Technologies is providing several training and learning opportunities to the UNL campus for staff and faculty. First, we are continuing last semester's popular Academic Technologies Lecture Series. Each week, members of our team will present about a different popular academic technology service on our campus. From beginner, intermediate, and advanced YuJa Sessions to the basics of Sharepoint/OneDrive and successfully integrating those tools into your Canvas course, these trainings will have a little something for everyone.

The upcoming lecture series opportunities will be:


Academic Technologies Staff Introduction Jan. 30, 2-3 p.m. — In the first session of this spring's lecture series, you will get a chance to meet the six Academic Technologies staff who are behind the technology services you use on campus. This will be a speed session style presentation, with each staff member having seven minutes to speak about their role on the team.


YuJa Beginner Training Feb. 8, 11 a.m.-12 p.m. — Leah Widdowson will be providing the training at this session, which is designed to provide users who are new to YuJa, the university's new academic video platform, with a basic understanding of how to begin using the platform.


One Button Studio Feb. 13, 1-2 p.m. — Brad Severa will be providing a demonstration of the One Button Studio, from reserving recording times to using the technology and video production features in the room.


How to Successfully Copy a Course Feb. 20, 1-2 p.m. — Jay Adams will lead this training, which is designed to show tips and tricks that can make your experience copying a course more successful. Jay will demonstrate little known settings and also provide a helpful course copying checklist for attendees.


To see all the available opportunities and to register, visit the training calendar on Bridge. All sessions will be recorded and made available online in the Academic Technologies shared folder on YuJa.

Technology Tuesdays
For just-in-time support and general questions about UNL technology, Academic Technologies will be offering Technology Tuesday office hours this semester Jan. 24 - May 9, 2-4 p.m. Faculty are welcome to join Academic Technologies staff on Zoom to ask any technology questions they might have. From Canvas to classroom technology to OneDrive, we are here to help with any technology needs you might have. No advance sign up is needed; just visit go.unl.edu/techtuesdays.

Contact Amy Barry at amybarry@nebraska.edu with any questions.


More details at: https://its.unl.edu/