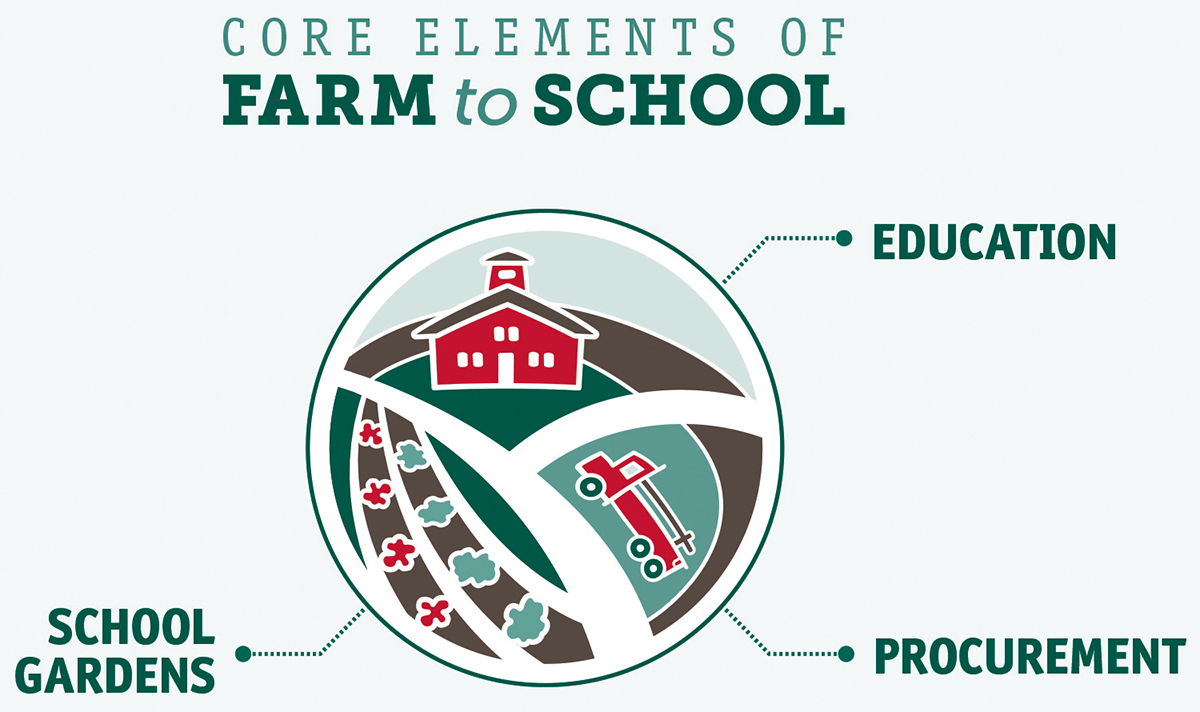 By Emily Gratopp, MS, ASCM-CPT and Alyssa Havlovic, MS, RDN, ACSM EP-C, Extension Educators in Lancaster County

WHAT IS FARM TO SCHOOL?
Nationally, Farm to School is an intentional effort to connect local food producers to schools, early care and education sites. Farm to School enriches community connections with fresh, healthy food grown by local food producers by implementing local-food purchasing and education practices.

Research has shown that healthy students are better learners, and increasing healthy food consumption is a great way for schools to increase learning and set healthy patterns for life (CDC, 2021, "Eating Healthier in School"). Farm to School also provides a rich opportunity for student learning by increasing opportunities to participate in experiential education, including school gardens, farm field trips and cooking lessons. It enhances traditional school subjects such as agriculture, agronomy, science literacy, math and business development.

Farm to School also has a big economic impact. Nationally, school lunches feed 30.5 million students each day in the National School Lunch program. This accounts for almost $13 billion per year in federal dollars spent on feeding students. Locally, this is a great economic opportunity for local farmers and producers to gain access to the large, institutionalized market of school lunches.

Farm to School is a win-win-win for farmers, schools and communities. It capitalizes on an economic opportunity to keep local dollars going to local farmers, boosting the local economy while providing healthy, wholesome food to students for enhanced-learning outcomes.

FARM TO SCHOOL INSTITUTE
Nebraska Extension in Lancaster County recently engaged in the Nebraska Farm to School Institute as a member of the Pius X High School team. Through a competitive application process, Pius X was selected as an implementation site for the Farm to School Institute during the 2021–2022 school year. Extension Educators are supporting Farm to School efforts through nutrition education provided by Alyssa Havlovic and team coaching by Emily Gratopp.

The Nebraska Farm to School Institute provided training and support for school-community teams to develop a Farm to School program. Selected teams came together from across the state to participate in workshops, learn best practices from national experts and create an action plan to carry out in their respective communities. The Institute is a collaboration between the Nebraska Department of Education (NDE) and Nebraska Extension — made possible by funding from the USDA Farm to School Grant program.

The efforts of Pius X focus on building support for Farm to School efforts within their cafeteria, their classrooms and their local community. One of Pius X's Farm to School goals is to offer at least one fresh, locally grown or produced food item on the menu each week during the academic year. Additionally, Pius X is increasing nutrition education in their cafeteria, classrooms and out-of-school programs.

Pius X is working to build connections between the community, local farmers/producers and the school. If you are interested in getting involved with Pius X's Farm to School efforts, go to http://www.piusx.net/farm2school.

GET INVOLVED
Are you interested in getting your school involved in Farm to School? Get started by engaging in Nebraska Thursdays and the Harvest of the Month program. Find more information on the NDE Farm to School website at http://www.education.ne.gov/ns/farm-to-school/. Find local farmers/producers to connect with in the Buy Fresh Buy Local 2021 Food Guide at https://buylocalnebraska.org.

The Mountain Plains Crunch Off is a friendly competition and multi-state celebration of Farm to School Month in October. Nebraska has been the Crunch Off winner the past two consecutive years. We are hoping to win it again this year by having the most Crunch Off registrants per capita than any other state. Participate by registering and taking a bite of local produce. Learn more about the Crunch Off and register by going to Buy Fresh Buy Local at http://buylocalnebraska.org/nebraska-crunch.

SOURCES:
• Centers for Disease Control and Prevention (CDC), 2021. "Eating Healthier at School." Retrieved from http://www.cdc.gov/healthyschools/features/eating_healthier.htm.
• Christensen, L.O, Jablonski, B.B.R, Stephens, L., Joshi, A. (2017). "Economic Impacts of Farm to School: Case Studies and Assessment Tools." Retrieved from http://www.farmtoschool.org/Resources/EconomicImpactReport.pdf.