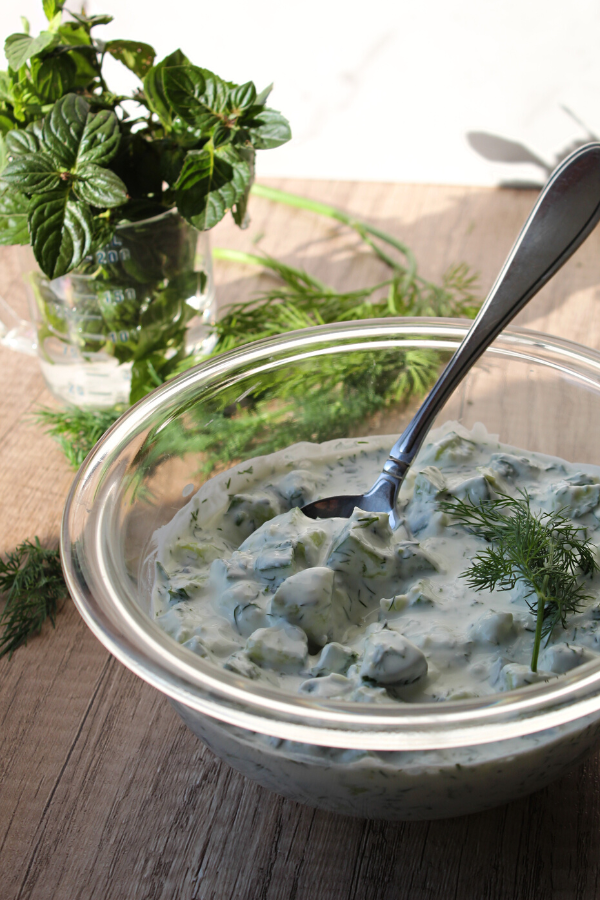 By Emily Gratopp, MS, Extension Educator in Lancaster County

Be inspired by the fact that several members of the 4-H True Leaders in Equity team are Middle Eastern, and try this refreshing Jajic recipe. It is formally known as a salad, but I prefer it as a veggie dip or sauce on meat and rice dishes.

JAJIC MIDDLE-EASTERN CUCUMBER SALAD
(Yield: 6 servings)

• 3–5 Persian cucumbers OR 1 large cucumber, scrubbed with clean vegetable brush under running water, chopped*
• 2 Tablespoons fresh mint, gently rubbed under running water, finely chopped OR
• 2 teaspoons dried mint
• 1/4 cup fresh dill, gently rubbed under running water, finely chopped**
• 1 cup plain non-fat Greek yogurt
• 2 garlic cloves, minced
• 1/2 teaspoon salt (optional)

1. Wash hands with soap and water.
2. Combine all ingredients in a medium-sized bowl. Refrigerate until serving.
3. Serve chilled with meat and fish dishes, or as a dip with pita bread.
4. Store leftovers in a sealed container in the refrigerator for up to 4 days.

NOTES: *To serve the salad as a dip, grate cucumbers instead of chopping.
**Substitute or add more fresh herbs to taste, such as parsley, cilantro or chives.

Nutrition Information: Serving Size (1/2 cup); Calories 30; Total Fat 0g; Saturated Fat 0g; Cholesterol 0mg; Sodium 15mg; Total Carbohydrates 4g; Fiber 0g; Total Sugars 2g, includes 0g Added Sugars; Protein 4g; Vitamin D 0%; Calcium 4%; Iron 0% and Potassium 2%

NUTRITION SOFTWARE USED: ESHA Food Processor

SOURCE: This recipe was created in collaboration with Community Crops and Yazidi Project.