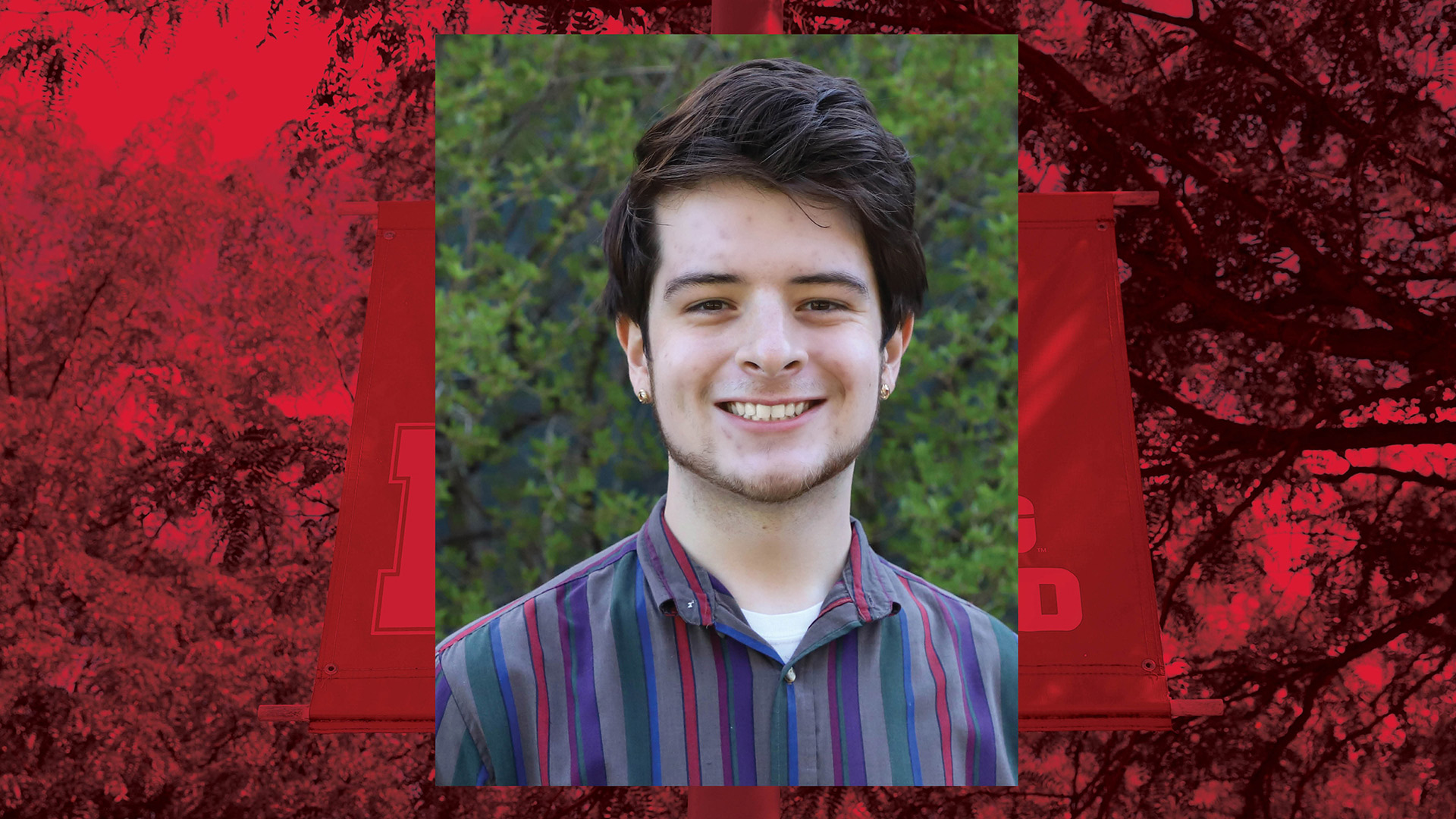 Samuel "Sam" Polk, a plant biology major in the Department of Agronomy and Horticulture, is one of 65 University of Nebraska–Lincoln students who were recognized as Chancellor's Scholars during the undergraduate commencement ceremonies May 8 at Memorial Stadium. Chancellor's Scholars are students who have maintained 4.0 grade-point averages on all collegiate work at Nebraska and elsewhere.

Polk has always had an interest in science, especially biology. He began his college career as a biochemistry major but soon realized it wasn't quite for him. Looking through the degree catalog he stumbled across plant biology.

"Plants have always fascinated me, and I was super excited to discover there was a degree program specifically for it," Polk said. "This type of degree is great for research or other occupations."

Brian Waters, former Nebraska associate professor in plant breeding, genetics and molecular physiology, was the first faculty member to give Polk the chance to explore both the research and the teaching side of being a plant biologist. Polk taught plant science (AGRO/HORT 131) with Waters in the fall of 2017.

Department of Agronomy and Horticulture assistant professor of practice Christian Elowsky and professor Don Lee were Polk's advisors and teaching mentors.

"Some of my favorite classes were taught by Dr. Christian Elowsky. He was my professor for both botany (AGRO/ HORT 278) and plant anatomy (AGRO/BIOS/HORT 478/878) and helped me several times along my degree path," Polk said.

Reflecting on his student's career, Elowsky said Polk was always quietly competent, with just a dash of humor.

"He completed it all with heart and soul and outstanding internal leadership," Elowsky said. "One knew when Sam was listening and thinking as he'd cock his head to the side and look sidelong at the speaker as he waited for their thoughts to be complete. That focus was shared equally regardless of the speaker, from peers to faculty."

Polk became Elowsky's teaching assistant for the botany classes in 2020 and 2021.

"I've loved helping to inspire a love of plants in other students," Polk said.

According to Elowsky, Polk took on the curriculum as if it were a happy duty to be completed and was able to connect the organismal plant biology material to the students from several majors.

"As the past president of the Plant Biology Club, as a teaching assistant and even as a student, Sam tends to hang out just off to the side, but the instant he's called upon, he quietly steps in and completes tasks, Elowsky said.

"If the job was to discuss student learning and assessment or choosing between social events or business, he provided balance and counter-balance to the conversations. He does not play the middle but provided breadth to the discussions."

During his sophomore year Polk took Lee's genetics (AGRO/HORT 215) course. The next semester he became part of the genetics teaching team.

"Sam's genetics students loved him. I have been blessed to have Sam work as a genetics TA for five consecutive semesters including a summer term," Lee said.

A position with Gautum Sarath, USDA Agricultural Research Service research molecular biologist/biochemist and adjunct professor of agronomy, provided Polk with the chance to work on a grant proposal and be a more independent researcher.

"I worked under Sarath doing research largely on gene expression in switchgrass. I learned a lot of biology and biological analysis methods at this lab. Working for the USDA really opened my eyes to how science is done and communicated at a professional level," Polk said.

Polk also had the opportunity of working on a UCARE project. See a video of his work at https://mediahub.unl.edu/media/16341.

"Sam really was putting together a resume that would make him competitive for many plant biology research graduate programs. However, he made a different discovery," Lee said.

Through his experiences as a teaching assistant for botany, genetics and plant science, Polk found his love for teaching. Most important to him was that his students learned.

"I plan to become a high school biology teacher after graduation, with my ultimate goal of getting botany or other plant science education courses into high school curriculums where they normally wouldn't be, like Omaha where I'm from," Polk said.

This fall, Polk will be attending the University of Nebraska in Omaha to earn a Master's in secondary education with a concentration in STEM.

"Sam Polk is going to be a great science teacher," Lee said.

Elowsky expressed excitement for Polk's future opportunities to bring plant education to more people.

"Plants, and exceedingly rare students like Sam, are the future," Elowsky said.

See the full list of Spring 2021 Chancellor's Scholars at Nebraska Today.

More details at: https://go.unl.edu/sampolk