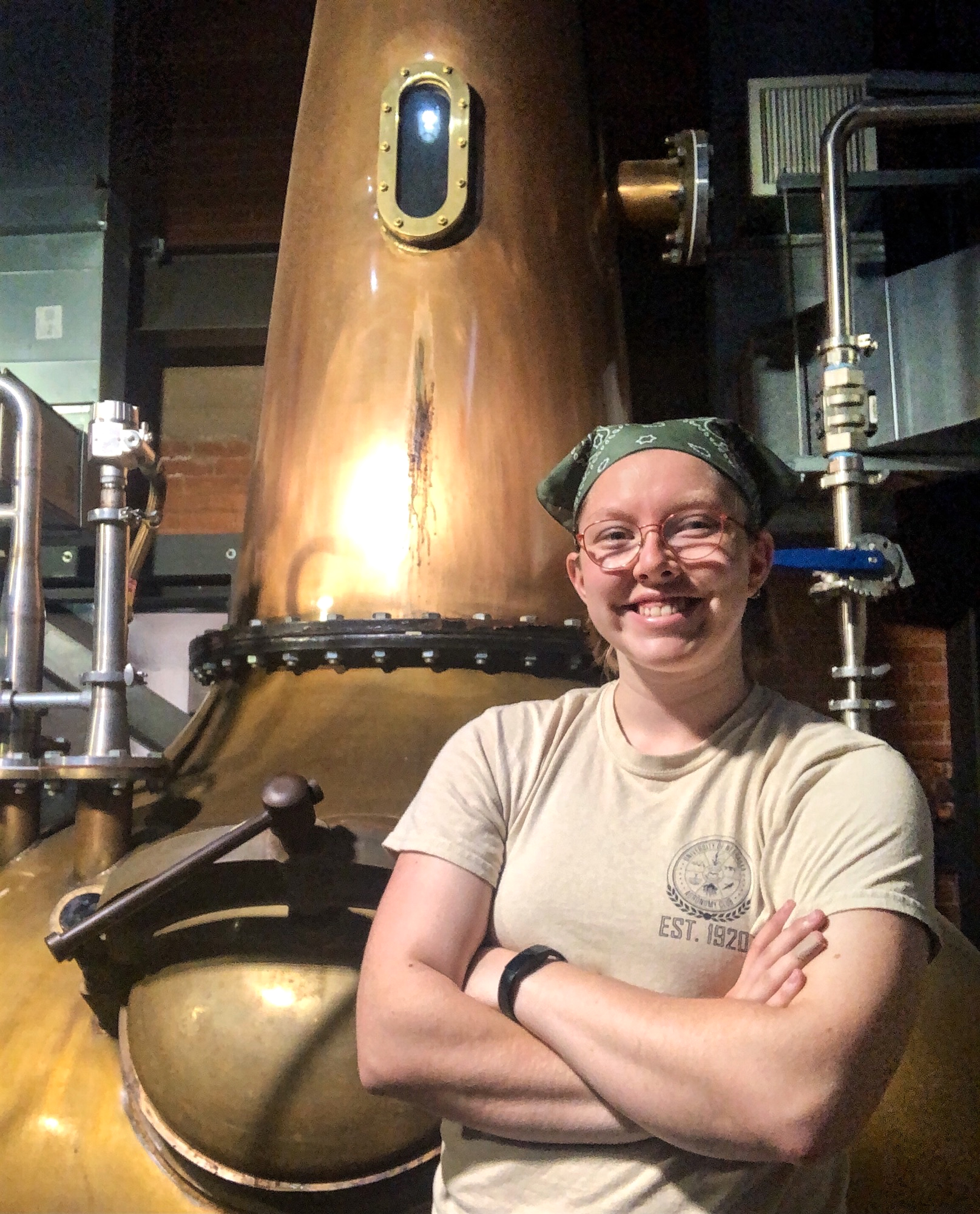 Agronomy and Horticulture Alumna Spotlight:
My name is Christine Barta and I work for Balcones Distilling in Waco, Texas. I am a production assistant in the brewhouse and stillhouse.

What is something you enjoy about your job/career and how did you become interested in this discipline?
I enjoy my job because it is challenging, and each day provides new opportunities for learning and creating. It is an incredibly hands-on job!

I first became interested in the Wine and Spirits industry while taking classes and participating in research with Professor Paul E. Read in viticulture and enology within the Department of Agronomy and Horticulture at Nebraska. I learned a lot about wine and table grape growing as well as the importance of different concentrations and values of various molecules and compounds that are valued in wine and spirit production. This led me to pursue one of my interests and brought me to my current position.

Do you feel this is a fulfilling and well-compensated career?
Something I really enjoy about my job is that I am constantly learning new things! When I am not actively performing hands-on tasks, I spend my downtime reading articles, papers and books to help improve my understanding of the Wine and Spirits industry. I have also begun taking a food chemistry course from Harvard through the EdX website, which my job allows me to do with support from my coworkers.

How did a degree from the University of Nebraska–Lincoln Department of Agronomy and Horticulture help prepare you for what you do now?
My Bachelor of Science degree in horticulture, with a specialty in crop production, helped prepare me for this job by teaching me about the molecular composition of starches, grains, seeds and fruits and how they break down. I also learned about Brix (sugar content), pH, titratable acidity and how these factors affect fermentation and distillation.

Do you still keep in contact with classmates and faculty from the university?
The friends I made at Nebraska helped get me through my degree and supported me immensely in my transition from college to the workplace. Finding a job is hard enough as it is — finding a job during a global pandemic presents even more challenges. My friends supported me in that difficult time and continue to support me even though we no longer see each other daily.

The faculty that I formed strong relationships with, such as Associate Professor of Practice Stacy Adams, Professor Read and Assistant Professor of Practice Christian Elowsky, continue to support me by providing resources and tools to supplement my learning and improve my job skills.

How does your company values align with the university's "In Our Grit, Our Glory" brand?
As many people know, Texas, and much of the United States, experienced a very harsh, damaging freeze in February of 2021. I started my job shortly after the freeze and was amazed at the determination of everyone at Balcones to get all the equipment back up and running smoothly. We are now back to full production capacity, and everyone is working hard to communicate successes and problems across the company. This, to me, truly aligns with the university's "In Our Grit, Our Glory" brand and makes me even more proud to be a Husker graduate. Go Big Red!


More details at: https://go.unl.edu/fdjp